Dir/scr: Hong Sangsoo. South Korea 2011. 79mins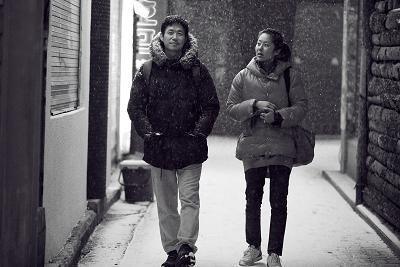 French director Arnaud Desplechin once made a film called How I Got Into An Argument. That title would lend itself admirably to just about any film by Korean director Hong Sangsoo, who since his 1996 debut The Day A Pig Fell Down The Well has proved himself a master of everyday misunderstandings and embarrassments. Since 2002's The Turning Gate, Hong has worked on a deliberately spare canvas – repetitively, according to his detractors.
In its pared-down style and seemingly inconsequential narrative, the film is superficially comparable to the American 'mumblecore' genre.
But for his fans, Hong refines his ever more refined miniatures with a consistency, delicacy and philosophical wit that make him comparable to the late Eric Rohmer. The prolific Hong last year gave us both Hahaha and Oki's Movie and has quickly followed up with The Day He Arrives, a crisp little gem that one's one of his best recent films, showing his miniaturist's mastery to highly accessible advantage. Slightly more immediate than he has been of late, The Day He Arrives won't win Hong a huge new audience, but it has what it takes to boost his constituency at least a little, and the faithful will love it.
Shot in black and white – with Hong's trademark zoom shots and partly narrated in voice-over by the protagonist – the film begins with narrator Seongjun (Yu) arriving in Seoul for a brief visit, and hoping to meet up with old friend Youngho (Kim Sangjoong). Seongjun is, like many Hong heroes, a film-maker, but he hasn't directed in a while, and when some film students invite him for a drink, it turns out they're barely familiar with his work. Seongjun storms off drunk, then drops by the flat of old flame Kyungjin (Kim Bokyung).
She gives him the cold shoulder, but then yields to his clumsy advances and does an emotional volte face – at which point, Seongjun brusquely makes his exit. He then has a series of sometimes fraught drinking sessions with Seongyun, with a mutual actor friend and with a female film studies professor, Boram (Song), in a bar significantly named 'Roman' ('Novel'). The place is run by a woman called Yejeon, who – in a running joke – seems always to be running out to the shop to buy supplies.
Two elements make this downbeat, naturalistic chatfest more perplexing than it initially seems. One is that it's hard to be sure whether the characters make a series of visits to Yejeon's bar, or whether the sessions there are interchangeable, alternative versions of one event, à la Groundhog Day. The other oddity is that Kyungjin and Yejeon are identical (both are played by Kim Bokyung) – leading a confused Seongjun to make advances to the latter woman just when he seems to be hitting it off with Boram.
In its pared-down style and seemingly inconsequential narrative, the film is superficially comparable to the American 'mumblecore' genre, especially as practised by Andrew Bujalski, but Hong's execution is much more precise and structurally playful than that might suggest. His positioning of Seongjun as an unreliable narrator, and his repetition of shots and dialogue, are canny strategies to launch his mischievous insights into feckless men and gullible women, and his commentary on coincidence, contingency and the way people narrativise their lives. The ensemble acting is pitch perfect, and no-frills photography makes Seoul's streets a functional but characterful stage for this subtlest of farces.
Production company: Jeonwonsa Film Co
International sales: Finecut Co Ltd., www.finecut.co.kr
Producer: Kim Kyounghee
Cinematography: Kim Hyungkoo
Editor: Hahm Soungwon
Music: Jeong Yongjin
Main cast: Yu Junsang, Kim Sangjoong, Song Sunmi, Kim Bokyung