Dir. Doug Aarniokoski. US. 2011. 90mins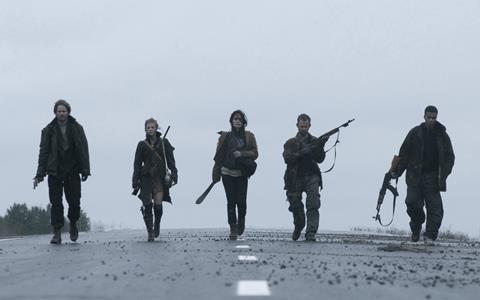 A portentous post-apocalyptic indie thriller destined for midnight showings and VOD play, The Day opens with an overdone, shakey-cam prologue depicting a man's family being taken away from him.
The Day provides a number of heart-thumping scenes.
Flash forward some time later, and the troubled young father (Shawn Ashmore) has joined a new ragtag family of gun-toting survivors, which includes two old friends, the leader Rick (Dominic Monaghan) and the sickly Henson (Cory Hardrict), along with an attractive brunette Shannon (Shannyn Sossamon), and Mary (Ashley Bell), a strong and silent tough-chick.
When the gang stumbles into a seemingly well-fortified house in the woods to take shelter from the rain, they find soon themselves caught in the trap of an ominous enemy. And what might have looked initially like a cross between The Road and The Road Warrior turns into a violent action-siege drama as the group fends off attackers.
There's a welcome nifty twist about halfway through the story, interjecting some internal conflict and raising the stakes for all involved. The pivotal revelation also affords the filmmakers a chance to show off their special effects prowess with a torture scene that includes lots of blood and one gruesome mutilation. For horror fans, this might provide a jolt, but for everyone else, it just looks gross.
Nevertheless, The Day provides a number of heart-thumping scenes, including all the requisite gunfire, exploding guts, and axe-swinging of the genre.
But except for an excessively gratuitous final coda, the film is way too serious for its own good. The characters break down in tears over their miserable lives and spout sanctimonious dialogue about what makes them different from the cannibalistic clan that's pursuing them.
This is post-apocalyptic nightmare, sure, but Aarniokoski, who has worked as an assistant director on Robert Rodriguez's films From Dusk Till Dawn and Spy Kids, could learn from his mentor's sense of humor.
It's one thing to have Cormac McCarthy's subtle vision of a bleak post-human world, but it's another to experience it from the perspective of someone trying to make a post-WWII allegory about holocaust survivors with a "reformed Nazi" (according to the press notes) in their midst.
Ashley Bell, hot off her role in The Last Exorcism, shows off a tough exterior, admirably exuding plenty of kick-ass attitude behind layers of vulnerability. But the character is also written particularly well; that is, she doesn't speak much.
Photographed in a de-saturated digital-video grayish palette, which seems all but expected for the film's setting, The Day looks perfect adequate for what must be a low budget film. The over-baked score, however, often gets in the way of the action.

Production Companies: Guy A. Danella Productions, Follow Through Productions, Rock Mafia, Preferred Content, Faction M
International Sales Agent: Content Media, www.contentmediacorp.com
Executive Producers: Michael Finley, Tim James, Antonina Armato, Ross M. Dinerstein, Doug Aarniokoski
Producers: Guy A. Danella
Screenplay: Luke Passmore
Cinematographer: Boris Mojsovski
Production Designer: Lisa Soper
Editor: Andrew Coutts
Music: Rock Mafia
Main Cast: Shawn Ashmore, Ashley Bell, Cory Hardrict, Dominic Monaghan, Shannyn Sossamon