Dir: Toa Fraser. New Zealand-UK. 2014. 108mins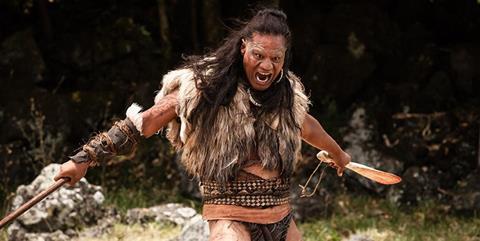 An energetic, glossy and exciting New Zealand Maori action-adventure, Toa Fraser's The Dead Lands (Hautoa) is a fast-paced tale of honour and revenge that doesn't shirk when it comes to offering up bone-crunching battles and blood-thirsty martial arts scenes.
Director Toa Fraser has crafted an exhilarating action romp, punctuated by stylish and crunching fight sequences.
Set some 500-600 years ago before Maori contact with Europeans and civilisation, the story set against a backdrop of tribal society and its shifting balance between allies and enemies where codes of honour and ritual were vital. With XYZ handling international sales, it is easy to see why The Dead Lands is being partially pitched as an action-driven film, though it also works as a violent drama as it blends together the look and tone of Apoclaypto and Last Of The Mohicans.
The film brings to life the New Zealand Maori warrior traditions, with fighting style based on a form of martial arts called Mau Rakau which flowing fight moves, brutal weaponry and provocative facial expressions (which will be familiar to those who have see New Zealand's national rugby team the All Blacks perform the Haka). In many ways the film is a counter-balance to the popular (and equally brutal) Viking films, with emphasis on bludgeoning violence rather than subtle storytelling – except in a warmer climate.
After his tribe almost wiped out in an attack by a rival clan in a treacherous act, Maori chieftain's teenage son Hongi (James Rolleston, star of Boy) must avenge his father's murder to bring peace to the souls of those killed. Vastly outnumbered, he pursues the killers, led by Wirepa (Te Kohe Tuhanka), having no real idea how to face them but determined to do so.
When they decide to cut through the forbidden Dead Lands, Hong manages to form an uneasy alliance with a mysterious warrior (a mesmerising Lawrence Makoare, from Die Another Day and The Hobbit: The Desolation Of Smaug), a ruthless fighter – dubbed 'the monster who eats the dead' - who as the last survivor of his tribe guards the land with grim determination.
Director Toa Fraser, who made Dean Spanley and Giselle, has crafted an exhilarating action romp, punctuated by stylish and crunching fight sequences (kudos to martial arts advisor Jamus Webster). The film – all delivered in Maori language – slows up shortly after a centrepiece fight scene as Hongi and the warrior meet a Maori warrior woman, but soon finds its feet again it heads towards the expected climax. Fantasy scenes of Hongi talking to his ancestors suit the tone of the film, though Don McGlashan's 1970s style score jars at times with the lush feel of the jungle backdrop.
Production companies: GFC/Fightertown, XYZ Films, The New Zealand Film Commission, New Zealand Film Production Fund Trust, Te Mangai Paho Images & Sound, Lip Sync, Day Tripper Films
International sales; XYZ Films, wwx.xyzfilms.com
Producers: Matthew Metcalfe, Glenn Standring
Co-producers: Tainui Stephens, Norman Merry
Screenplay: Glenn Standring
Cinematography: Leon Narbey
Editor: Dan Kircher
Production designer: Grant Major
Music: Don McGlashan
Main cast: James Rolleston, Lawrence Makoare, Te Kohe Tuhaka, Xavier Horan, George Henare, Raukura Turei, Rena Owen