Dir: Sheree Folkson. UK. 2011. 89mins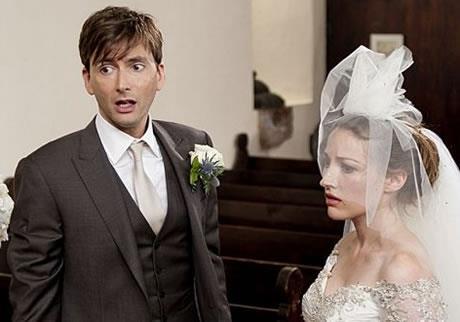 Good-natured, completely formulaic and modestly appealing, the Scottish-set romping rom-com The Decoy Bride eventually stumbles at the altar, despite a charming and dynamic performance from Kelly Macdonald.
Kelly Macdonald is vibrant, funny and innately charming and gives the film some much needed energy.
The film, which premiered at the Glasgow Film Festival, receives a nominal release in the UK prior to a DVD release three days after its formal theatrical release date. That may hint that it has little to offer, but in fact it is watchable and peppered with some nice dialogue. But despite some enthusiastic performances the script loses any kind of momentum and the last third struggles to engage.
There is no denying, though, that the pairing of Kelly Macdonald and David Tennant works very well, and casting Alice Eve – whose star is on the rise following roles in Sex And The City 2, She's Out Of My League and upcoming films The Raven and Men In Black III – will help the film's profile internationally. Its life may well mostly be in home entertainment, but from the comfort of the sofa it is an easy watch.
Macdonald stars as Katie, a Scottish lass who returns – after yet another broken romance – to the remote-ish island of Hegg, moves back in with her mother and gets back her old job at the local (well, only) shop, McValues General Store. Meanwhile, back on the mainland, Hollywood superstar actress Lara Tyler (Alice Eve) is mortified when her wedding to British author James Arber is ruined by ruthless paparazzi.
Her PA Steve Korbitz (Michael Urie, from Ugly Betty) and his assistant Emma (British comedienne Sally Phillips who also scripted the film) suggest relocating the wedding to the Hegg, which happens to have been the location for James's one-and-only novel The Ornithologist's Wife…though he has never admitted that he has never actually been to the island.
To throw journalists off the scent, they also manage to convince – well bribe – Katie to act as a decoy bride, which naturally enough leads to all sorts of hi-jinks and shenanigans as Lara vanishes to escape the press; Katie and James find themselves accidentally really married and the locals set about fleecing the press hordes for as much money as possible.
At heart the film wants to be a blend of Notting Hill and Whisky Galore!, but despite some nice moments there is not an unexpected beat in the entire film. There are some amusing lines of dialogue related to the island – "we don't want people to think this is the Orkneys where anything goes" Katie is warned by one elderly resident, while another adds "it's like the whale all over again" referring to the biggest incident to hit the island before the wedding – but the structure is entirely by-the-numbers. There is a certain momentum to the plot initially, but when it heads into 'will-they-won't-they' territory as Katie and James engage in the usual bickering dialogue that points to a couple in fact being in love with each other the island becomes a surprise-free zone.
Kelly Macdonald is, though, vibrant, funny and innately charming and gives the film some much needed energy. She is matched nicely by David Tennant – asked to play his character English – though at times he has to play broad comedy (such as having to dress in Katie's father's old hippy clothes from the 1970s when the pair get drenched) when he actually a more subtle actor who has great comedy timing.
Alice Eve, though suitably blonde and glamorous, never makes the right impact as the Hollywood queen. Her character is nice, naïve and while perhaps living in a Tinseltown bubble it is never quite explained how she is such a star and why she acts as she does. She drifts in and out of the film, but is ill-served by a story that doesn't help her make the impact the film needs.
Production companies: Isle of Man Film, CinemaNX, Ecosse Films, Creative Scotland
International sales: Hanway Films, www.hanwayfilms.com
Producers: Robert Bernstein, Douglas Rae, Paul Ritchie
Executive producers: Steve Christian, Marc Samuelson, Mark Woolley, Carole Sheridan
Co-producers: Matt Delargy, Andrew Fingret, James Saynor
Associate producer: Louise Seymour
Screenplay: Sally Phillips & Neil Jaworski, based on a story by Phillips
Cinematography: Nanu Segal
Editor: Daniel Farrell
Production designer: Alison Dominitz
Music: Julian Nott
Main cast: Kelly Macdonald, David Tennant, Alice Eve, Dylan Moran, James Fleet, Michael Urie, Sally Phillips, Federico Castelluccio