Dir/scr; Terence Davies. UK. 2011. 98mins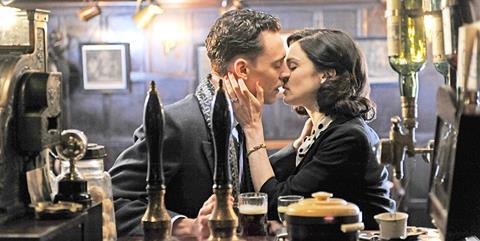 Terence Davies deftly adapts Terence Rattigan's acclaimed play The Deep Blue Sea to craft an elegantly staged, sublimely moody, tale of painful love all set against the backdrop of post-War London as people struggle to rebuild their lives. The setting will be a familiar one to admirers of Davies' work, while a moving lead performance by Rachel Weisz should guarantee appreciative attention.
The Deep Blue Sea will entrance and delight fans of Terence Davies.
That postwar era provides a familiar setting for Davies, whose acclaimed films Distant Voices, Still Lives and The Long Day Closes were also set in that period, and while those films were rich in atmosphere and staging, with The Deep Blue Sea the pain and pleasure of love is at the fore in Rattigan's moving and uncompromising story of a woman's fear of loneliness and the unreliable nature of love.
2011 marks the centenary of the birth of Terence Rattigan, whose plays dwelt on British insecurities about sex and class, and The Deep Blue Sea is regarded as his masterpiece with its love triangle reflecting the state of the Nation in the early 1950s as the country attempted to find its feet after the War, with the Nation rebuilding and still in a time of rationing.
The love triangle in The Deep Blue Sea is between Hester Collyer (Weisz), the beautiful wife of high court judge Sir William Collyer (Simon Russell Beale) and Freddie Page (Tom Hiddleston) a young ex-RAF pilot with whom she has fallen passionately in love. Terence Davies has worked on the original story to focus it entirely from Hester's point of view, and with the use of carefully framed flashbacks draws the viewer into the relationships from her perspective.
The film opens with a delightful rising crane shot that eventually focuses on Hester as she look out of the widow of the vaguely seedy boarding house in a bombed out London street where she lives with Freddie. As the opening credits start we hear the last words of her suicide note she has written to him, and she moves back from the window and prepares to take her own life.
The Deep Blue Sea then weaves back and forth through different time periods as it tells the story of Hester, her husband and her early dalliances with Freddie and sets them alongside the repercussions of her suicide attempt.
Hester enjoys a comfortable homelife with her wealthy lawyer husband, but when she meets handsome ex-RAF pilot Freddie during a visit to the Sunningdale Golf Club she falls head-over-heals in love. Despite her sense of morality the sheer passion she feels drives her into an adulterous affair.
With the story blurring between the aftermath of her suicide attempt - she is found by her landlady, tended by a doctor and awaits Freddie's return - the film dwells on other moments, such as her recollection of being in a crowded tube station during the Blitz, with stoical Londoners singing along as bombs explode above them; the moment in an art gallery when it is clear she and Freddie share no cultural common-ground, and the profound and intense happiness she feels dancing and singing with him at a local pub.
Terence Davies's acknowledged attention to detail are wonderfully evident here in this beautiful evocation of the period. The production design (by James Merifield) and cinematography (Florian Hoffmeister) combine perfectly to present a glimpse into a bygone but still familiar world, with the densely decorated rooms and packed pubs resonating with the feel of the 1940s and '50s.
Rachel Weisz is at her very best as the tormented Hester. When she falls for Freddie it is the first time she has felt true erotic love, and when she feels he is drawing away from her the pain of its possible loss is unbearable. Her natural poise sets perfectly against her character's almost obsessive desire. And alongside her Tom Hiddleston confirms his reputation as a rising star, delivering an honest and believable performance as a rather shallow man still harking back to his wartime glories.
The rather mannered nature of the dialogue aids the sense of moody melodrama though it may also be a barrier to audiences more at ease with modern scripts. There is a sense that the drama and passion - intense and all-consuming though it is - is at arms length, and while elegantly staged and intense though it is, the film is not ultimately moving.
The Deep Blue Sea, though, will entrance and delight fans of Terence Davies (and they are many and loyal) and should see the film a successful art house release and must on the film festival circuit.


Production companies: Camberwell/Fly Film Productions, UKFC, Film4, Protagonist Pictures, Lipsync Productions
International sales: Protagonist Pictures, www.protragonistpictures.com
Producers: Sean O'Connor, Kate Ogborn
Executive producers: Katherine Butler, Lisa Marie Russo, Peter Hampden, Norman Merry
Cinematography: Florian Hoffmeister
Editor: David Charap
Production designer: James Merifield
Main cast: Rachel Weisz, Tom Hiddleston, Simon Russell Beale, Karl Johnson, Ann Mitchell, Harry Hadden-Paton, Sarah Kants