Dir: Alexander Payne. US. 2011. 115mins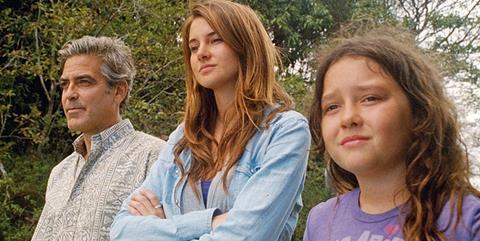 Seven years after Sideways, Alexander Payne returns with The Descendants, another blissful slice of Americana that confirms him as the finest chronicler of human foibles working in US movies. Both hilariously funny and heartbreakingly sad, it's a beautifully observed movie that will do strong box office business around the world and be a major player in awards season.
It's refreshing to watch a movie that treats such a wrenching tale of loss and grief with such warmth and wit.
George Clooney gives his best performance to date as a Hawaiian man in crisis, and his name will help keep the grosses robust as the awards roll in. He should easily snag nominations in the next few months and could go all the way to the best actor Oscar. Fox Searchlight opens the film in the domestic market on November 18.
Based on a novel by Kaui Hart Hemmings, the film has the unusual setting of Hawaii and Clooney stars as the descendant of a Hawaiian royal princess and controls a plot of 200 virgin acres of land which his family is about to sell to developers for hundreds of millions of dollars.
But, as his character Matt King, tells us in the opening voiceover, Hawaii is no paradise and its inhabitants suffer the same slings and arrows as everyone else. In his case, his wife has had a boating accident and is lying in a coma, leaving him to look after his two daughters Alexandra (Woodley) and Scottie (Miller). The prognosis is not good, and the situation is made more difficult by revelations that emerge from Alexandra about the fact that his wife had a lover.
The characterisations here are rich and fully realised, and the journey - both emotional and literal - that Matt and his acid-tongued daughters go on before his wife's death is as moving as it is funny. Along for the ride is Alexandra's sweetly dumb surfer dude boyfriend Sid (Krause), while assorted characters they encounter include the wife's pugnacious father (Forster), her lover (Lillard) and his unsuspecting wife (Greer).
Clooney eschews his traditional easy charm to inhabit the role of this awkward, schlumpy, tight-fisted lawyer whose parenting skills and insight into human behaviour are seriously limited. He spends most of the film with the three youngsters led by Woodley, who shines brightly as the acidic, angry 17 year-old, and the chemistry between the four is natural and priceless.
It's refreshing to watch a movie that treats such a wrenching tale of loss and grief with such warmth and wit, and without the relentless anguish that many similar stories fall prey to. We know that Payne is a brilliant writer, but his script here, written with Nat Faxon and Jim Rash, captures the frailty and resilience of modern humans with a rare insight and affection.


Production company: Ad Hominem Enterprises
International distribution: Fox Searchlight Pictures/20th Century Fox International
Producers: Jim Burke, Alexander Payne, Jim Taylor
Screenplay: Alexander Payne, Nat Faxon, Jim Rash from the novel by Kaui Hart Hemmings
Cinematography: Phedon Papamichael
Production designer: Jane Ann Stewart
Editor: Kevin Tent
Main cast: George Clooney, Shailene Woodley, Amara Miller, Nick Krause, Beau Bridges, Judy Greer, Matthew Lillard, Robert Forster