Dir: David Frankel. US.2006. 109 minutes.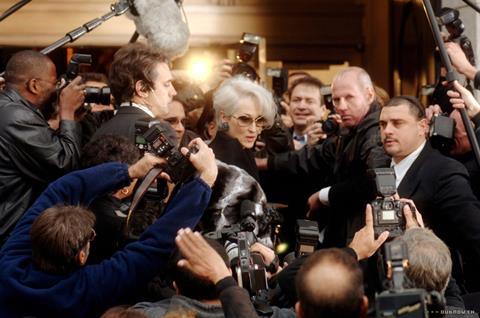 Lauren Weisberger's best selling 2003 novel The Devil Wears Prada- a roman-a-clef about the hellish life of a top fashion magazine editor's lowly new assistant - helped give full-bodied face to the seriocomic, New York workplace-set chick lit subgenre, capitalizing on the chatty, catty appeal of the American cable television hit Sex in the City. Its film adaptation, meanwhile, serves as a superlative showcase for costar Meryl Streep, a respectable calling card for young star Anne Hathaway, and an effective if decidedly estrogenized mentor-associate dramedy.
Box office prospects for TheDevil Wears Prada should be middling, definitely of the tortoise variety rather than the hare. The movie's subject matter will be like Kryptonite to younger male moviegoers, so it's no surprise that 20th Century Fox is opening it up next week against Superman Returns, in a savvy bit of counter-programming.
Its somewhat ham-fisted treatment of its male characters - an inversion of the usual disregard given to perfunctory female romantic foils - may meanwhile put off slightly older males who are not automatically disinclined to see a movie with a female protagonist who's neither an action heroine nor superhero. Streep's delicious performance and her only ever-escalating professional esteem, however, will help TheDevil Wears Prada drive and sustain solid ancillary value as a catalogue title.
It's been a long time -maybe dating back to 1980's 9 to 5- since a boss-from-hell comedy caught fire with the mainstream zeitgeist.Despite their devoted followings and showcase appeal, movies like Swimmingwith Sharks and Office Space remain relatively small, cultish curios. WhileStreep's self-centered ice queen is the movie's main point of entry andaccessibility, The Devil Wears Prada is also a coming-of-age story about a young girl who has real conflictsabout which path in life to choose.
Andy Sacks (Hathaway) is arecent graduate whose serious journalistic ambitions get flipped on their endwhen she takes an interview for a second assistant's position at "Runway", aprestigious fashion magazine. Despite the utter disdain of recently promotedfirst assistant Emily (Emily Blunt), Andy's complete dissimilarity from other candidatesimpresses editor-in-chief Miranda Priestly (Streep), who decides to hire her.
Though she's hardly a"fashionista," Andy views her job as much a stepping stone as a tour of duty,and flings herself into its long hours and demeaning tasks. She's met withoutright hostility from Emily, slightly more mannered disapproval fromassociate editor Nigel (Stanley Tucci) and derision from Miranda as "the smart,fat girl" because she's, gasp, a size six. Slowly, though, Andy proves hercompetence. After an ultimatum in which Andy successfully procures a copy ofthe latest, yet-to-be-published Harry Potter manuscript for Miranda's young twin daughters,Miranda comes to legitimately rely on Andy, even as a behind-the-scenes powerstruggle casts momentary doubt on her future at the magazine.
The Devil Wears Prada is marked by a whirring sense of energy. TheodoreShapiro's score is energetic, and several key musical selections point up theexcitement of a handful of runway and travel sequences. A location jaunt toParis for crucial "fashion week" also lends the film additional productionvalue and a feeling of authenticity.
The film's romanticjungle-vine swing, from Andy's current boyfriend Nate (Adrian Grenier), ajunior chef, to idealistic journalist Christian Thompson (Simon Baker), ishandled rather awkwardly and unconvincingly. More persuasive is an argument, inclipped monologue from Miranda, that clothing isn't merely about utility, andthat fashion is an inescapable necessity and influence upon our lives, even ifwe attempt to live steadfastly outside of its sphere of influence.
Hathaway acquits herselfnicely in yet another move away from the two The Princess Diaries movies on which she first made her name. TheDevil Wears Prada, though, is Streep'sshow, and she shows why she is rightly regarded as the finest actress of hergeneration. With a perfectly coiffed shock of white hair evoking Cruella deVille, her cheeks sucked in slightly and her eyes narrowed in perpetualjudgment, Miranda Priestly represents the finely polished conceitedness of numerouspowerful figures, but particularly powerful women and the unique price they payfor their ambition, the further compromises and sacrifices they must often makein order to achieve their goals. We only glimpse Miranda with her guard downtwice, but in Streep's hands these two key, wonderfully played sequencesgenerate if not a deep and abiding compassion for Miranda then at least somereal empathy about her choices.
Prod cos
Fox 2000 Pictures
Worldwide dist
20th Century Fox
Exec prods
Joseph M Caracciolo, Jr., Carla Hacken, Karen Rosenfelt
Prod
Wendy Finerman
Scr
Aline Brosh McKenna, based on Lauren Weisberger's novel
DoP
Florian Ballhaus
Prod des
Jess Gonchor
Ed
Mark Livolsi
Mus
Theodore Shapiro
Main cast
Meryl Streep, Anne Hathaway, Stanley Tucci, Emily Blunt, Simon Baker, AdrianGrenier, Daniel Sunjata, Tracie Thoms