Dir/scr: Marielle Heller. US. 2014. 102mins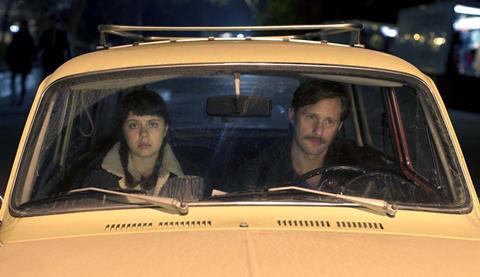 If that sounds like the title of a 1970s sex movie, the joke is: it is. But not in the cheesy, exploitative way you might think. Based on Phoebe Gloeckner's graphic novel of the same name, Marielle Heller's exhilarating feature debut is about a fifteen-year old girl in mid-seventies San Francisco for whom sex – with her mother's boyfriend, no less – is something really quite wonderful: part of a heady though confusing coming of age that sometimes blows her off course, but will eventually lead to maturity and empowerment.
The film's other great pleasure is its colourful, affectionate but also caustically accurate portrait of San Francisco circa 1976-77.
Potential viewers may well be sceptical that any film could spin delight out of an experience that, today, would be classified as statutory rape, but Diary does – and not just by reminding us that this was another time, another place. It embraces its shock factor with open, feminist arms, making Minnie the instigator and gleeful, hungry pilot of her sexual awakening. Her lust and sexual delight is shown to be something joyful, something that no teenage girl should be ashamed of. As you watch, it dawns on you that, absurdly, this has probably never been attempted before in a commercial feature – certainly not in this frank, unapologetic way.
But the film also succeeds thanks to the casting and the complex chemistry between young British actress Bel Powley, who gives a breakout performance as the film's titular teenage girl, Minnie Goetze, and Alexander Skarsgard, playing charming, likeable, sideburned rake Monroe as a man who, far from being a creepy predator, is surprised (though also aroused) by Minnie's come-ons and never quite sure about the ethics of what he lets himself get into.
It's a film with guaranteed audience appeal, a well-made package, right down to the marketable soundtrack, which mixes up Mott the Hoople with the Stooges, T.Rex and other acts from the era. Debuting at Sundance before travelling to Berlin, where it won the International Jury Grand Prix in the Generation 14plus section, Diary has been picked up by Sony Pictures Classics for North America, Latin America, Australia, New Zealand, Eastern Europe excluding Russia, Asia, Scandinavia and Germany. Other territories (sold by K5 International) will fall like dominoes, and after what looks like a solid run, some awards action is likely, with nominations during the 2016 awards season – not least for Bel Powley's revelatory performance – by no means out of the question.
The film's other great pleasure is its colourful, affectionate but also caustically accurate portrait of San Francisco circa 1976-77. It's a meeting of two tectonic plates: the Haight-Ashbury generation represented by Minnie's sexually liberated mother, played by Kristen Wiig as a perky, flirtatious feminist and sexual libertarian brought up short when her daughter outdoes her in those departments, and Minnie's own generation, in which sexual liberation and drug use is starting to take on darker connotations of abuse and addiction, but which is also marking its distance from those hippy parents through comic book subculture, glam rock and the first stirrings of the punk movement.
Minnie's diary, recorded in her bedroom on an old cassette recorder, provides the film with a voice-over narrative framework – plus, of course, a dramatic sword of Damocles. She also draws cartoons, in emulation of her hero, feminist graphic artist Aline Kominsky (who would marry Robert Crumb in 1978), which take on their own life in some niftily integrated animated sequences – including a brief acid trip. But Diary is more than Adrian Mole with sex and drugs; Heller stages Minnie's story as a kind of counterculture adventure yarn, in which our heroine has to steer a Scylla and Charybdis course past dangers that include falling in love with Monroe, and pushing her rebellious desire for sexual and substance experimentation to the point where it becomes threatening and degrading. In the latter endeavour she has the help of best friend Kimmie (Waters), a blonde bombshell whose womanly looks set off Minnie's own fresh, slightly pudgy girlishness.
It's this adoption not only of Minnie's point of view but the voice and narrative style of her half girlish, half womanly outlook on life that makes The Diary of a Teenage Girl such a vibrant, hopeful film, carrying it past a dark-night-of-the-soul passage three-quarters of the way through to an authentic but also uplifting conclusion.
Production companies: Archer Gray, Caviar, Cold Iron Pictures
US distribution: Sony Pictures Classics
International sales: K5 International, info@k5international.com
Producers: Anne Carey, Bert Hamelinck, Madeline Samit, Miranda Bailey
Executive producers: Michael Sagol, Amanda Marshall, Jorma Taccone, Amy Nauiokas
Screenplay: based on the graphic novel by Phoebe Gloeckner
Cinematography: Brandon Trost
Editor: Marie-Helene Dozo, Koen Timmerman
Production designer: Jonah Markowitz
Music: Nate Heller
Main cast: Bel Powley, Alexander Skarsgard, Kristen Wiig, Madeleine Waters, Christopher Meloni, Abby Wait