Dir/scr: Justin Schwarz. US. 2012. 104mins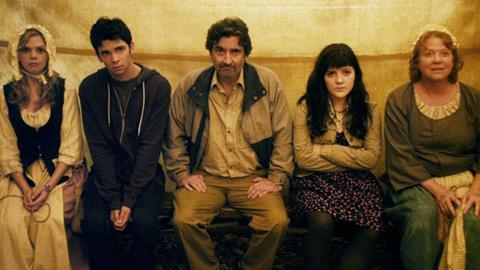 A ragtag re-enactment of the Lewis and Clark expedition is the backdrop for The Discoverers, the sweetly amusing tale of a dysfunctional modern family trying to work out its issues. Though it probably lacks the edge necessary to make much of a mark theatrically, this understated indie comedy with Griffin Dunne starring should at least open some doors for first time feature writer-director Justin Schwarz.
Writer-director Justin Schwarz finds enough bittersweet humour in the characters and situation to keep the film engaging.
Premiered at last month's Hamptons International Film Festival, the film has a decent chance of finding a US distributor but might be a tricky sell internationally.
Dunne plays Lewis Birch, a down-on-on-his-luck history professor and divorced dad. Lewis' plan to bond with his detached teenage kids - daughter Zoe (Madeleine Martin, from TV's Californication) and son Jack (Devon Graye, from American Horror Story) - during a trip to an academic conference is derailed when his mother dies and his estranged father (Arbitrage's Stuart Margolin) goes missing.
In pursuit of his own father, Lewis ends up dragging his children into a historical re-enactment trek following the path of early nineteenth century American Northwest explorers Lewis and Clark and their Corps of Discovery expedition. Over the course of the trek, Lewis makes peace with his father and starts a tentative new relationship, Zoe hits puberty and comes to terms with her dad and Jack finds a girlfriend.
Writer-director Justin Schwarz (a partner in the project's New York production company Quadratic Media) finds enough bittersweet humour in the characters and situation to keep the film engaging but he doesn't give the story the kind of emotional bite that might have made it really poignant.
Dunne, the After Hours star who these days mostly produces and directs, is nicely bedraggled as Lewis and Martin stands out as the strong-willed but sensitive Zoe.
Production companies: Quadratic Media
Sales: Submarine Entertainment, www.submarine.com
Producers: Laura Kleger, Louise Lovegrove, Justin Schwarz
Executive producer: Bob Gosse
Director of photography: Christopher Blauvelt
Production designer: Kelly McGehee
Editor: Geraud Brisson
Costume designer: Kim Wilcox
Music: Aaron Mirman
Casting directors: Patricia DiCerto, Lois Drabkin
Website: www.discoverersmovie.com
Main cast: Griffin Dunne, Madeleine Martin, Cara Buono, Devon Graye, Stuart Margolin, John C McGinley