Dir/scr: Richard Ayoade. UK. 2013. 93mins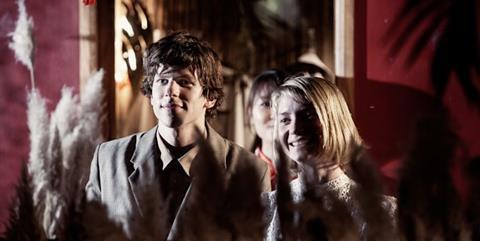 If Richard Ayoade drew inspiration from the French nouvelle vague for his admired directorial debut Submarine (2010), then his follow-up The Double seems to be drawn in equal parts from the deadpan world of Aki Kaurismaki, Terry Gilliam's flights of fancy and droll Czechoslovakian cinema from the 1960s.
Jesse Eisenberg slips with ease into the role of the neurotic Simon, an apologetic man in an ill-fitting suit forever fuming with exasperation.
Working with screenwriter Avi Korine, Ayoade has transformed Fyodor Dostoevsky's novella into a wildly eccentric, exhausting existential comedy that may attract a cult following but may seem odd and daunting for mainstream tastes. It represents a marketing challenge for any potential distributor.
Production designer David Crank has succeeded in creating a noirish, nightmare world that seems to exist out of time and place. The drab colour palette, flickering lights, inky shadows and Heath Robinson-style contraptions suggest somewhere behind the Iron Curtain during the 1950s. There are Bakelite telephones, record players and copying machines that fill vast, shabby rooms.
A warren of oppressive office cubicles provide a place where bureaucracy runs riot. The overall impression is of a world that belong to the pages of Franz Kafka rather than Dostoevsky.
Simon (Jesse Eisenberg) is a meek, mild-mannered worker who fails to make an impression on everyone he meets. He is undervalued at his office, ignored in social situations and desperately aware of his own inadequacies. The possibility that he could form a relationship with the beautiful Hannah (Mia Wasikowska) is beyond his wildest imagining.
His life is made even more complicated by the arrival of a doppelganger called James (Eisenberg) who crackles with all the charm and confidence that Simon lacks. He has soon won everyone's heart, including Hannah's, and created a massive identity crisis for the already fragile Simon.
Jesse Eisenberg slips with ease into the role of the neurotic Simon, an apologetic man in an ill-fitting suit forever fuming with exasperation and letting his voice trail away into silence at the end of sentences that nobody will hear. His bustling, shameless counterpart has a snap and swagger that others find irresistible, especially his boss Mr. Papadopoulos, energetically played by Wallace Shawn. By contrast James Fox as the Colonel, the mysterious boss behind the company, barely speaks a line of dialogue and fails to register much of a presence.
The Double is a desperate cry for help from a troubled soul driven to madness by his inability to be the person he wants to be. His pain is depicted in hostile confrontations with petty authority figures, deadpan encounters with grotesque individuals who mean him harm and situations that always spiral out of control including the burial of his dear departed mother.
The Double does offer some dark amusement along the way but is more likely to baffle than beguile. In the closing moments, when the full tragedy of Simon's situation becomes apparent it finally touches the heart in a manner that the rest of the film has failed to achieve.
Production company: Alcove Entertainment
International sales: Protagonist Pictures www.protagonistpictures.com
Executive producers: Michael Caine, Graeme Cox, Tessa Ross, Nigel Williams
Producers: Robin C. Fox, Amina Dasmal
Screenplay: Richard Ayoade, Avi Korine based on the novella by Fyodor Dostoevsky
Cinematography: Erik Alexander Wilson
Editors: Nick Fenton, Chris Dickens
Production designer: David Crank
Music: Andrew Hewitt
Main cast: Jesse Eisenberg, Mia Wasikowska, Wallace Shawn, Cathy Moriarty, Noah Taylor