Dir. Conor McPherson. Ireland. 2009. 88mins.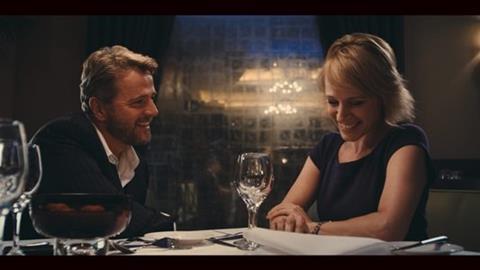 The picturesque seaside town of Cobh in Ireland's County Cork, with its neo-gothic Cathedral of St Colman, is the setting for Conor McPherson's The Eclipse, an intimate tale about an unusual love triangle involving middle-aged characters.
Adapting Billy Roche's short story Table Manners for the big screen, renowned playwright McPherson (The Seafarer) adds some familiar horror elements to the melodrama, resulting in an odd mix of satisfying surprises in the department of amour and worn but successfully jolting clichés in the sphere of fear. Working best as a mood piece, The Eclipse should do well in its native Ireland and the UK, while international prospects are less assured although this was one of Tribeca's hot tickets and finished the festival with Magnolia taking worldwide rights and Ciaran Hinds winning the festival's best actor trophy.
Hinds plays Michael, a reserved local woodwork teacher and widower who volunteers as a driver during the fictitious Cobh literary festival. Hjelje (Mifune, High Fidelity), is beautiful, sympathetic Lena, the author of ghost novels and a participant in the festival. The third point of the triangle is Nicholas, a famous, egocentric, and frequently inebriated American writer, over-acted by Quinn.
Unattached Lena is trying to shake off the married Nicholas, with whom she had had an affair at the previous year's event. Michael, now the sole parent of two young children, meets each of them separately in the course of his transport duties. The fact that he is, or thinks he is, seeing ghosts draws him to Lena, the only person he feels comfortable talking to about it. At first the spirits resemble his late wife, then, in some scenes that evoke gasps from the audience, a bloody version of his father-in-law, who resides miserably in a home for the aged. Lena informs Michael that ghosts can be seen by living persons who are close to death.
The screenplay has some weak spots. Why does Frank lie to Lena about the location of his wife's grave? Why are there no clues to make credible a deus ex machina plot point involving his literary talent? It's understandable that he is haunted by the spirit of a spouse with whom he was clearly in love, but why is he taunted by a nasty incarnation of her father?
McPherson over-embellishes an atmosphere of horror, with dark interiors (he films Lena and Michael in silhouette in one shot), music, mostly piano, relentlessly signalling every potentially scary moment and clichés such as creaking doors and frightening noises from unknown sources. It's one thing to picture Michael's dreams of blurred otherworldly presences, but more naturalistic scenes, such as his fantasy of entering Lena's bedroom, seem unnecessary and perhaps betray McPherson's theatrical origins. This minor but accomplished work might have worked better had its overall style been as underplayed as the model performances of Hinds and Hjelje.
Production company
Treasure Entertainment (Ireland)
International sales
Magnolia Pictures
+ 1 212 924 6701
Producer
Robert Walpole
Screenplay
Conor McPherson
Billy Roche
Cinematography
Ivan McCollough
Editor
Emer Reynolds
Production design
Mark Geraghty
Music
Fionnuala Ni Chiosain
Main cast
Ciaran Hinds
Aidan Quinn
Iben Hjejle
Jim Norton
Eanna Hardwicke
Hannah Lynch