Dirs: Matthew Kennedy, Adam Brooks. Canada. 2014. 99mins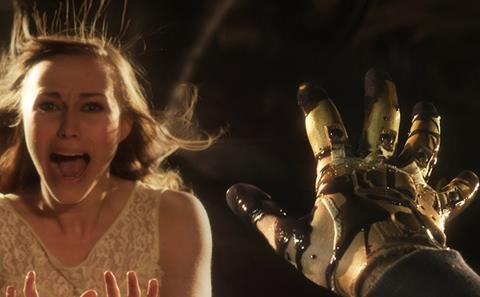 As a gloriously lurid companion piece to Peter Strickland's Berberian Sound Studio, this impressively made – though perhaps too niche – satire on editing Italian giallo films will strike a chord for film fans. Made by – and starring – folk from Winnipeg's collective Astron-6 it is a film that will strike a chord at genre festivals (and was a good choice for Toronto's Midnight Madness section) though may struggle for formal distribution.
Giallo may not be to everyone's taste, but The Editor works a rather loving tribute to a niche horror genre.
It is something of a slight and one-joke film – and even at 99 minutes feels a little stretched out – but as a well worked and occasionally well-sustained satire of the wonderfully sleazy Italian murder-mystery melodramas from the 1960s to the '80s The Editor is an attractively made low-budget film. The casting of genre favourites such as Paz de la Huerta, Udo Kier and Laurence R. Harvey in largely cameo roles will also do no harm to promoting the film.
Rey Cisco (Adam Brooks, one of the co-directors) is the veteran editor to an Italian director shooting his latest horror film when things start going bloodily wrong and the cast and crew start getting attacked. Police detective Peter Porfiry (the other co-director Matthew Kennedy) starts investigating and focuses on Rey…the connection he (obviously) sees is that all of the victims have their fingers cut off, just as he did in a accident many years earlier, with him now wearing a prosthetic glove.
The screenplay (by Brooks, Kennedy and Conor Sweeney, who plays an arrogant actor) pokes fun at the lurid sleaziness, bad dubbing and liberal sexism that defines many of the giallos, though these gags may be preaching to the converted to a certain extent. There are plenty of bad edit cuts, 1970s style soundtrack, naked female flesh, trashy lighting and ropey dialogue which all successfully works to make the film a loving and at times astute homage to a unique genre.
The performances are all pretty good, with the Astron-6 gang knowing what they are doing with the cameos fitting in nicely.
Paz de la Huerta – the biggest draw star-name wise - who plays Rey's unhappy wife, gets more to do as the film draws on, with the film managing to tie all of he diverse strands together to good effect. Giallo may not be to everyone's taste, but The Editor works a rather loving tribute to a niche horror genre.
Production companies: Astron-6, Kennedy/Brooks
International sales: Park Entertainment, www.parkentertainment.com
Producers: Adam Brooks, Matthew Kennedy
Executive producer: Andria Spring
Screenplay: Matthew Kennedy, Adam Brooks, Conor Sweeney
Cinematography: Matthew Kennedy, Adam Brooks
Editor: Adam Brooks
Music: Claudio Simonetti, Jeremy Gillespie, Brian Wiacek
Production designers, Matthew Kennedy, Adam Brooks, Maryam Decter
Main cast: Paz de la Huerta, Adam Brooks, Laurence R. Harvey, Samantha Hill, Udo Kier, Jerry Wasserman, Matthew Kennedy, Conor Sweeney, Dan Bern, Tristan Risk, Brett Donahue