Dir: James Ponsoldt. US. 2014. 106mins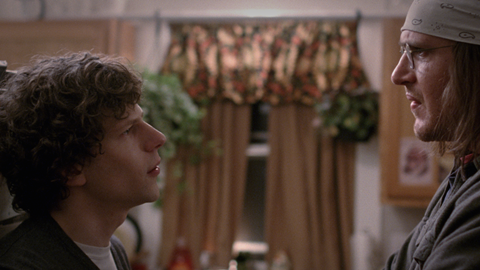 Stories about writers rarely make for good cinema. But this charming and sensitive film about a five-day encounter between acclaimed late author David Foster Wallace and a Rolling Stone journalist is a transfixing human drama. While fans of Wallace (widely known for his 1996 novel Infinite Jest) may expect some insights into the author's creative life, The End Of The Tour is more about capturing the tentative connection between these two men, and the emotional honesty for which the author strived.
The End Of The Tour may seem like a modest, talky affair, but it's also a rich and enveloping journey.
Starring Jesse Eisenberg (The Social Network) as journalist and budding novelist David Lipsky and Jason Segal (Forgetting Sarah Marshall) as Wallace, The End of the Tour is largely an intimate two-hander between the two actors. And although little happens in the way of plot, the fabulous script—adapted from Lipsky's memoir by Pulitzer-Prize-winning playwright Donald Margulies—is propelled forward by the witty repartee between the two leads and their complex, evolving relationship.
With critical support and a solid US launch from distribution A24, who picked up local rights at Sundance, the film should go onto play moderately well in international markets open to smart, well-written cinema.
The film begins with Lipsky learning of Wallace's untimely death and called upon to speak about him on National Public Radio. Flashback 12 years earlier, and Lipsky is an eager Rolling Stone journalist with one novel under his belt and something to prove. He persuades his editor to let him write a lengthy profile of Wallace—who was then at the peak of his fame—and soon he's on a plane to Normal, Illinois to meet the living literary legend.
Lipsky and Wallace are complete opposites—almost. Wallace is a socially awkward self-effacing slob, living with two black dogs in the icy Midwest; Lipsky is an aspirational pasty-faced neurotic New York intellectual. At first, their relationship is strained and awkward, merely writer and subject. Lipsky makes no effort to break the ice, immediately putting the tape recorder in Wallace's face. But soon the two men begin to exchange ideas and bond over cigarette smoking, junk food, their lack of wives or kids, and a love for Alanis Morissette.
Margulies's script deftly handles their lengthy conversations, which undulate back and forth like a verbal dance, alternating between letting their guard down and then putting walls back up. As much as they find camaraderie, they also experience rivalries, jealousies, and mind-games.
While the two men sit close together on a plane ride to Minneapolis, where Wallace is giving his final reading on a book tour, for example, the two briefly connect like old friends, smiling and laughing—until Lipsky breaks the moment by asking Wallace about a difficult moment from his past. The odd couple may have found common ground briefly, but as Wallace tells Lipsky in a stinging line of dialogue, "This is nice, but it isn't real."
As Wallace, Segal shows depth and nuance as the suffering author, as he struggles with loneliness, depression and an attempt at an authentic existence. The latter becomes a consistent point of contention between the two men, and their meta-discussions about the interview experience and the veracity, or lack thereof, of Lipsky's eventual representation of Wallace seems to resonate with the author's own thematic concerns about irony and truth. If Wallace's bandana, for instance, is seen as merely a marketing trademark, can he still wear it—even if he needs it as a "security blanket" or to "keep his head from exploding"?
Further fulfilling on the promise of his previous actor-driven projects The Spectacular Now (2003) and Smashed (2012), director James Ponsoldt lets the camera roll and the men inhabit the scenes in an easygoing, naturalistic way. Comparisons to this year's "It"-filmmaker Richard Linklater are appropriate as Ponsoldt similarly and refreshingly trusts the script and the actors to convey the story forward. The End Of The Tour may seem like a modest, talky affair, but it's also a rich and enveloping journey.
Production companies: Anonymous Content, Kilburn Media
International sales: Fortitude International, www.fortitudeint.com
Executive Producers: Paul Green, Donald Margulies, Ann Ruark
Producers: David Kanter, Matt DeRoss, James Dahl, Mark Manuel, Ted O'Neal
Screenplay: Donald Margulies
Cinematography: Jakob Ihre
Production designer: Gerald Sullivan
Editor: Darrin Navarro
Music: Danny Elfman
Main cast: Jesse Eisenberg, Jason Segel, Anna Chlumsky, Joan Cusack, Mamie Gummer, Mickey Sumner