Dir: Philipp Stolzl. US. 2012. 100mins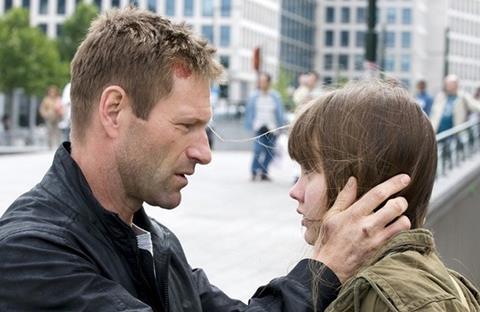 As an attempt to deliver an action-adventure blend of the Taken films and the Bourne series, the Euro-set thriller The Expatriate offers-up plenty of fist-fights and gunplay, and while Aaron Eckhart convinces as the concerned father with (yes) a special "skillset" out to take on a deadly conspiracy, the film lacks the budget and epic action sequences to make it a must-see adventure film.
Eckhart gets to partake in a couple of nicely staged fight scenes.
Where the film works best is with its rather old-fashioned and complex conspiracy plot set against the backdrop of a series of cities in Belgium, and while Eckhart might lack some conviction when it comes to the fist-fights he has the gravitas and innate intelligence to work well as a former CIA-man trying to unravel a deadly plot that links big business with the intelligence community.
The film, which has opened in a series of international territories, opens in the UK theatrically in March and has a limited run – where it will be titled Erased - in the US in May.
Former CIA-man Ben Logan (Eckhart) is working in Belgium for an international company that is working on breaking into its own security equipment, but after a night at hospital with his daughter Amy (Liana Liberato) he arrives to work to find his co-workers dead and all of the office equipment stripped away.
With killers on their trail the pair head to Brussels to try and get to the bottom on the deadly conspiracy, which seems to have links back to his former CIA handler Anna Brandt (a rather underused Olga Kurylenko). As well as fighting off killers, Logan also has to reveal his real CIA background to his daughter, who is less than enthusiastic about her new-look father.
Eckhart gets to partake in a couple of nicely staged fight scenes – in a hospital when an assassin comes stalking them, and in a subway station where he takes on two bodyguards – but while the action is nicely put together the film lacks the intensity or brutality of the Bourne or Taken films. A car crash scene feels rather modest compared to the sequences staged in those films, with The Expatriate – a less than exciting title – feeling more like a more cerebral thriller with some action scenes tagged in.
Production companies: Informant Films, Expatriate Films, uFilm, Smash Media, Entertainment Motion Pictures, Essential Entertainment
International sales: Informant Media, http://informantmedia.com
Producers: Claude Leger, Adrian Politowski, Karl Richards, Jonathan Vanger
Executive producers: Peter Bevan, Eric Brenner, Jeremy Burdek, Judy Cairo, James Gibb, David Harfield, Leo Joseph, Nadia Khamlichi, Mark Kress, Howard Meltzer, Jason Rimokh, Michael A Simpson, Gilles Waterkeyn, Harry Winer
Screenplay: Arash Amel
Cinematography: Kolija Brandt
Editor: Dominique Fortin
Production designer: Jean-Francois Campeau
Music: Jeff Danna
Main cast: Aaron Eckhart, Olga Kurylenko, Liana Liberato, Neil Napier, Kate Linder, Alexander Pehling