Dir: Sylvester Stallone. US. 2010. 103mins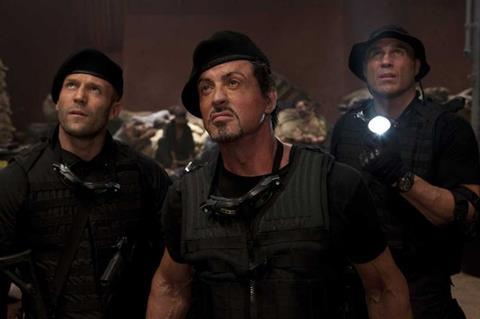 Surely never before has there been gathered together on screen such a macho collection of hulking action heroes…tattooed up to the hilt, muscles oiled and guns locked'n'loaded, this bruising band of brothers will undoubtedly strike box office jackpot in terms of appealing to action-loving film fans desperate for a fix of explosions, bloodshed and extreme male bonding.
The film succeeds as a piece of bombastic entertainment thanks to the sheer physical presence of its hulking heroes.
As subtle as a Kevlar-clad sledgehammer, The Expendables is a celebration of unbridled testosterone…an old-fashioned and occasionally very bloody action-thriller that delivers exactly what it says on the tin. There are vague attempts at plot twists and loose character development, but in the end noisy action mayhem is all that counts. Lionsgate opens the film in the US and UK as part of a co-ordinated attack on cinema screens worldwide through August.
Action fanboys have been lusting after The Expendables on-line ever since the tasty teaming of the likes of Sylvester Stallone, Jason Statham, Dolph Lundgren, Jet Li, Steve Austin, Bruce Willis and Arnold Schwarzenegger was first mooted. And while the much-hyped on-screen coming-together of Stallone, Willis and Schwarzenegger amounts to just one rather unimportant scene, the rest of the film certainly delivers in terms movie mayhem.
The Expendables are a team of mercenaries led by Barney Ross (Stallone). His team consists of former SAS man Lee Christmas (Statham), martial arts expert Yin Yang (Li), weapons specialist Hale Cesar (Crews), demolitions man Toll Road (Couture) and sniper Gunnar Jensen (Lundgren). But when pill-popping Jensen takes the bloodshed too far after one mission he is ejected from the team.
After Ross is approached by the CIA to overthrow ruthless dictator General Garza (David Zayas) who rules the South American island of Vilena, he and Christmas pose as the most unlikely pair of ornithologists to infiltrate the island. They meet up with local freedom fighter Sandra (Brazilian actress Giselle Itie), who also happens to be the General's daughter, but she opts to stay behind as the pair have to fight their way out of the country.
With their plans betrayed, the team find themselves under attack back in the US, and Sandra captured back on the island Barney decides to go back to try and save her. Naturally his team of Expendables select their favourite weapons and decide to go with him.
Despite the fact that Stallone's direction is rather workmanlike and the issue that the script feels like a discarded episode of The A-Team, the film succeeds as a piece of bombastic entertainment thanks to the sheer physical presence of its hulking heroes.
Stallone is perfect as brutally honourable Barney Ross who rediscovers a sense of duty when he meets Sandra, though perhaps best of all is Jason Statham, an action-hero from a different generation to Stallone. He gets some of the best on-screen moments – manning a machine gun from the exposed nose of a seaplane and beating-up a gang of thugs who have menaced his girl (Charisma Carpenter, from Buffy The Vampire Slayer) – and against all odds he and Stallone convince as a pair of best pals, exuding an easy comradeship and relishing in an engaging banter.
Mickey Rourke has a few nice scenes as a chopper-riding, super-cool, long-haired, tattooist whose workshop seems to be a sort of frat house for the team, while the other Expendables drift in and out of the plot. Dolph Lundgren brings a certain hulking presence, while Jet Li is underused in terms of his sublime martial arts skills. Real-life wrestler/mixed martial arts stars Randy Couture and Steve Austin get to have a suitably roughhouse fight, though former NFL football player Terry Crews' main role is to blast away with an auto assault shotgun.
The on-screen violence gets increasingly bloody as the story draws on – heads are blown off and limbs are hacked away – but The Expendables remains old-fashioned in terms of how it delivers its action, favouring stunts and explosions rather than CGI effects.
Production companies: NuImage Productions, Millennium Films, Rogue Marble
International sales: NuImage/Millennium Films, www.nuimage.net
Producers: Avi Lerner, John Thompson, Kevin King Thompson
Executive producers: Jon Fetheimer, Jason Constantine, Eda Kowan, Basil Iwanyk, Guymon Casady, Danny Dimbort, Boaz Davidson, Trevor Short, Les Weldon
Screenplay: Sylvester Stallone, David Callaham
Cinematography: Jeffrey L Kimball
Editors: Ken Blackwell, Paul Harb
Production designer: Franco-Giacomo Carbone
Music: Brian Tyler
Website: www.expendablesthemovie.com
Main cast: Sylvester Stallone, Jason Statham, Jet Li, Dolph Lundgren, Eric Roberts, Randy Couture, Steve Austin, Terry Crews, Mickey Rourke, Giselle Itie, Charisma Carpenter, Bruce Willis, Arnold Schwarzenegger