Dir/scr: Luc Besson. 2010. France. 105 mins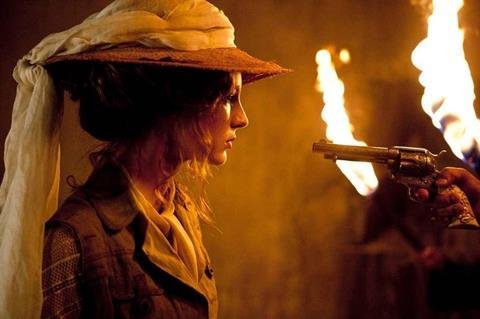 Luc Besson's romping period adventure tale is a veritable feast of fantasy action and marks a real return to form for the maverick French filmmaker. With its humour, thrills and impressive special effects the film deserves to find an appreciative audience – forget Lara Croft or Indiana Jones, there is a new tomb raider in town, and her name is Adèle Blanc-Sec.
The film is a bundle of energy as it blends old-fashioned adventure… plus a thoroughly charming lead performance by the impressive Louise Bourgoin.
Adapted from the comic books Les aventures extraordinaires d'Adèle Blanc-Sec by Jacques Tardi, the film (which had its world premiere at the Brussels International Fantastic Film Festival on April 9) is a bundle of energy as it blends old-fashioned adventure with villains, mummies and a pterodactyl… plus a thoroughly charming lead performance by the impressive Louise Bourgoin. Foreign language adventure films often find it hard to travel, but there is plenty of enjoyment to be had here, plus a stylish marketing campaign to sit alongside the release.
The year is 1912, and intrepid young French reporter Adèle Blanc-Sec, will go to any lengths to achieve her aims, even traveling to Egypt to tackle the legendary tomb of Patmosis. At the same time back in Paris, a 136 million year-old pterodactyl egg on a shelf in the Jardin des Plantes at the Natural History Museum has mysteriously hatched and the bird subjects the city to a reign of terror from the skies.
But Adèle Blanc-Sec is made of strong stuff and lets nothing stand in her way as she sets about trying to save her sister (injured and in a coma following a nasty – but rather funny – tennis accident) while also facing up the flying dinosaur as well as an extremely polite mummy.
When finally back in Paris from her Egyptian adventure (which features some Indiana Jones-style solving of clues and a nice escape inside a sarcophagus) she finds the trusty elderly Professor Esperandieu, who can help her reanimate the mummified Egyptian doctor, is linked to the pterodactyl attacks, and is in prison. Cue a series of disguises (from mustachioed lawyer through to fat prison guard) as she tries to free him.
In the end she helps tame the pterodactyl (using the animal-taming skills perfected in Egypt and also very handy in Paris) and ends up riding the flying dinosaur on a daring missing to save the professor from the guillotine.
Comedy comes in the form of the ever-hungry Inspector Caponi (Gilles Lellouche), especially in the he is teamed with the supposedly great hunter Justin de Saint-Hubert (Jean-Paul Rouve, in a performance engagingly similar to the hunter Van Pelt in Jumanji) as they ineptly stalk the pterodactyl.
Equally striking is a heavily made-up Mathieu Amalric (unrecognisable with his character's snaggle-teeth, sunglasses and limp black hair) as Adèle's nemesis Dieuleveult. The shame of it is that he is barely in a few scenes.
But the strongest part of The Extraordinary Adventures of Adèle Blanc-Sec (Les aventures extraordinaires d'Adèle Blanc-Sec) is the captivating performance by Louise Bourgoin as the fearless Adèle, a whirlwind of hats, dresses, disguises and blessed with a wonderfully willful determination.
Bourgoin made her way into acting via modeling and television presenting, and was cast as the sexy and ambitious weather girl in Anne Fontaine's charming (and rather overlooked) The Girl From Monaco (2008). She was terrific in that film, but as Adèle Blanc-Sec she is the glue that holds the film together.
She is graceful and beautiful, but also handles but the action and the humour with compete ease and the pre-World War I costumes completely suit her. And, since this is a French film, there is also a scene of her naked as she mulls over things in the bathtub!
Luc Besson directs with an engaging sense of style and humour, paying tribute to Jacques Tardi's characters and stories (the film combines several books), while also impressively utilising his own skills in clever camera-shots and dissolves. Eric Serra's score suits the mood of the film perfectly, though is not quite as memorable as other of his collaborations with Besson.
Production companies: EuropaCorp, Apipoulaï , TF1 Films
International sales: EuropaCorp, www.europacorp.com
Producers: Luc Besson, Virginie Silla Besson
Cinematography: Thierry Arbogast
Editor: Julien Rey
Production designer: Hughes Tissamdier
Music: Eric Serra
Main cast: Louise Bourgoin, Mathieu Amalric, Gilles Lellouche, Jean-Paul Rouve, Philippe Nahon