Dir: Fred Schepisi. Australia. 2010. 119mins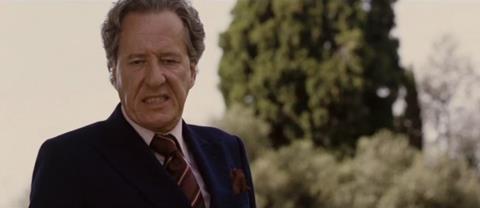 Fred Schepisi's first Australian feature since Evil Angels (1988) is a classy production with a distinctly European feel greatly assisted by the presence of Charlotte Rampling as a wealthy, dying matriarch.
It's an acting masterclass, and not just from the principals.
This 2-hour adaptation of Patrick White's very long 1973 novel is inevitably adult, psychologically complex, often sedate. But the production is ravishingly designed and, beside a full-on Rampling, features a collection of Australian actors at the very top of their game. Its September 15 local release will be mainly arthouse, but a lively international performance, especially in Europe, is confidently predicted.
The stern genius of Patrick White, who won the Nobel Prize for Literature in the year The Eye Of The Storm was published, has often been daunting to film producers. Producer Antony Waddington spent a decade planning and raising independent money for this movie, securing Schepisi and a formidable Aussie cast lead by Geoffrey Rush and Judy Davis.
Elizabeth Hunter (Rampling) is on her deathbed in a grand Sydney upper-class mansion. From London comes her famous actor son Sir Basil (Rush) and from Paris comes her down-at-heels daughter Dorothy (Davis) who is a genuine Princess, having married and divorced a French nobleman. Both camp knight and dowdy princess are desperate for an inheritance, a fact that amuses their cruelly mischievous mother who is lapsing into 'morphine moments' administered by a team of hired nurses and 'companions'.
The dysfunctional family make doomed attempts at civility, mostly wrecked by the capricious, increasingly confused mother. Basil makes contact with the local 1970s theatre set who treat him with both envy and contempt. And he makes a successful pass at Flora, the day nurse (Alexandra Schepisi, the director's striking daughter). Dorothy, meanwhile, tries to make inroads into the tight Sydney upper crust and finds herself groped in a hire car by a randy aspirant Prime Minister (a brief and energetic cameo by Colin Friels).
The fading Elizabeth remembers the past, and Rampling also plays her promiscuous younger self, luring Dorothy's muscled boyfriend on a tropical island soon to be ravaged by the storm of the title.
The '70s mansion is wonderfully realised by production designer Melinda Doring. Schepisi does all he can to disguise the necessary fact that much of the story occurs in and around Elizabeth's large, elegant bed. His widescreen camera zooms, tracks and glides, often to excess — anything to avoid the look of a 'filmed play'.
There are occasional narrative leaps, but Judy Morris's screenplay is moving and often very funny. The expert cast, especially Davis, extract some painful laughs.
It's an acting masterclass, and not just from the principals. John Gaden is perfect as the family solicitor, aware of all the nasty secrets but adding morality and decency to the petty corruptions around him. Helen Morse is quite brilliant as Lotte, one of Elizabeth's paid entertainers, a sad and desperate migrant from WW2 Germany.
There's haunting jazz-based music by Paul Grabowsky featuring major contributions from US saxophonist Branford Masalas.
Production company: Paper Bark Films
Aust/NZ distribution: Transmission Films
International sales: The Little Film Company, http://thelittlefilmcompany.filmtrackonline.com
Producers:Antony Waddington, Gregory Read, Fred Schepisi
Executive producers: Jonathan Shteinman & Edward Simpson, Bob Marc & James Vernon, Judy Davis, Geoffrey Rush
Screenplay: Judy Morris
Cinematography: Ian Baker
Editor: Kate Williams
Production designer: Melinda Doring
Music: Paul Grabowsky
Website:www.theeyeofthestorm.com.au
Main cast: Geoffrey Rush, Judy Davis, Charlotte Rampling, Alexandra Schepisi, Helen Morse, John Gaden, Robyn Nevin, Colin Friels, Maria Theodorakis