Dir: Lee Jae-kyu. South Korea. 2014. 135mins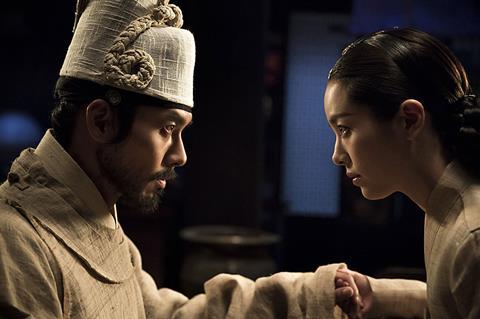 Sumptuously shot, South Korea's latest period epic is a visually arresting feature with plenty to keep audiences entertained, but Asian star Hyun Bin's (2010's Late Autumn) return to the big screen following his mandatory military service would have benefited from less attention paid to his physical appeal and more on giving him the necessary screen time to allow his character, King Jeongjo, who faces an assassination attempt to fully develop rather than needlessly over complicating the plot with numerous subplots and supporting roles.
Mowg, one of Korea's most promising score composers (Masquerade) again delivers an effective and impressive score conveying changes in the film's tempo and mood.
Locally the film has opened well amassing over 2.6 million admissions ($20m) since its release on April 30 capitalising on a long holiday weekend (May 2 -6), and going forward, given Hyun Bin's popularity, along with the fact that recent period dramas Masquerade (2012) and The Face Reader (2013) both became box office smash hits collectively amassing over $150m, it should recoup its 10 billion won ($9.6 million) budget, but mixed word-of-mouth could hinder it from becoming a significant hit.
On the international sphere, Hyun Bin's fan base stretches to other parts of Asia so buyers in this region may find this a tempting prospect, while its well-choreographed set-pieces involving Crouching Tiger Hidden Dragon-esque rooftop sequences may also attract interest when it's released in North America on May 23 on 25 screens through Dream West, which also distributed The Face Reader and Secretly Greatly in the territory.
Taking place in 1777 during the Joseon dynasty (1392-1897), the film recounts the 24 hours leading up to an assassination attempt on King Jeongjo (1752-1800) who in the first year of his reign was subjected to a number of other attempts on his life and thus trusts almost no-one except his dedicated servant Sang-chaek (Jung Jae-young). Unbeknown to the king, however, is that Sang-chaek was sent to the royal palace when he was a child to become a court eunuch by a savagely cruel gang leader called Gwang-baek (Cho Jae-hyun) who trains orphans to become ruthless assassins.
Through flashbacks the film also reveals how an assassin Sal-soo who is now the deadliest member of this group of killers was once close friends with Sang-chaek, but became separated when Sang-chaek takes Sal-soo's (Jo Jung-suk) place to protect him and sent to the palace.
Sang-chaek now loyal to the king tells of his dark past and subsequently asks him to leave, but once he learns that there is another assassin seeking to kill the monarch, he is determined to protect the king, only to discover he has to face Sal-soo.
Further complicating matters in an already crowded narrative is Queen Jeongsun (Han Ji-min) and Jeongjo's mother Lady Hyegyeong (Kim Sung-ryung) who are locked in a perilous conflict that's not fully explored while the film's romantic thread involving Sal-soo and a female court servant (Jung Eun-chae) also fails to be fully developed.
The film as a result inadvertently makes the king more of a supporting character and though Hyun Bin is satisfactory playing the role, he is unable to make his presence duly felt despite much attention focused on his physical attributes as illustrated when King Jeongjo is shown in the first few moments having a workout.
Largely disappointing is Han Ji-min (Detective K: Secret of the Virtuous Widow)) who tends to overact in many of her scenes while Jung Eun-chae (Nobody's Daughter Haewon) who always shows so much promise is sadly left at the fringes. Perhaps most impressive of all is the almost unrecognisable Cho Jae-hyun (Moebius) playing the brutal gang leader. Jung Jae-young meanwhile is seemingly able to adapt to almost any role playing the loyal servant.
What it lacks in script development, the film makes up for in its execution. Marking his feature debut after directing a number of TV dramas and four-part online film serial The Influence (2010), Lee Jae-kyu teams up with cinematographer Ko Rak-seon (The Face Reader, Nameless Gangster: Rules of Time) to produce a number of welcome period action set pieces reminiscent, if only in part, of Ang Lee's Crouching Tiger, Hidden Dragon (2000) and Kim Han-min's War of the Arrows (2011) through its cinematography, choreography and pacing – once it gets going.
Mowg, one of Korea's most promising score composers (Masquerade) again delivers an effective and impressive score conveying changes in the film's tempo and mood.
Given its technical strengths, it's disappointing the film's script fails to deliver a similar level in expertise, but the visuals do compensate for some of its weaknesses, which may allow both local and international audiences to overlook its shortcomings.
Production company: Good Choice Cut Pictures
International sales: Lotte Entertainment Co., Ltd., www.lotteent.com
Producer: Lee Yong-nam
Executive producer: Cha Won-chun
Screenplay: Choi Sung-hyun
Editor: Shin Min-kyung
Cinematography: Ko Rak-seon
Music: Mowg
Main cast: Hyun Bin, Jung Jae-young, Jo Jung-suk, Han Ji-min, Cho Jae-hyun, Park Sung-woong, Kim Sung-ryreong, Jung Eun-chae