Dir: Mark Cousins. UK-Canada. 2009. 76mins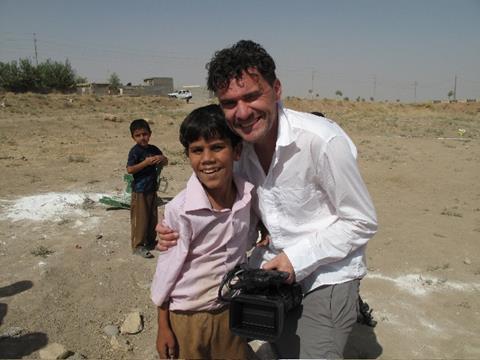 There is a whole lot of movie magic in Mark Cousins' enjoyable and warm-hearted documentary The First Movie which manages to make some serious points as well as weaving in some delightful moments. The film has been making the rounds of various film festivals as well as being screened in a series of one-off engagements around the world.
At its heart this charming film is about cinema and children rather than death and war.
The premise is simple and the result oddly profound. Cousins and his crew arrive at a Kurdish village in Iraq and set up an outdoor cinema where they show a series of children's film classics – The Red Balloon, The Singing Ringing Tree, Palle Alone In The World, The Boots and E.T.: The Extra-Terrestrial - for the youngsters of the community.
He then hands over to them a batch of Flip cameras and allows them to film stories of their own, often influenced by the movies they have seen, but always overtly linked to the circumstances they live in…brought up in a village which suffered greatly under Saddam Hussein.
Former festival programmer and TV presenter Cousins was brought up in Northern Ireland and has an easy affinity with the youngsters of Goptapa. He is a strong believer in the power of cinema (also reflected in the Ballerina Ballroom Cinema of Dreams festival he runs with Tilda Swinton in Scotland) and is charmingly enthusiastic about the films that the village youngsters produce.
Cousins does a terrific job in filming the village landscape and weaves into the film some harrowing real-life stories about the impact of Saddam's cruelties, but at its heart this charming film is about cinema and children rather than death and war. It works extremely well and is a must for sympathetic distributors and broadcasters.
Production companies: CONNECTfilm, Screen Siren Pictures, Scottish Screen, MoreFour
Producers: Gill Parry, Trish Dolman
Contact: hello@thefirstmovie.net
Executive producers: Robbie Allan, Tabitha Jackson
Screenplay/cinematography: Mark Cousins
Editor: Timo Langer
Music: Melissa Hui
Website: www.thefirstmovie.net