Dir/scr: Edward Burns. US. 2012. 99 mins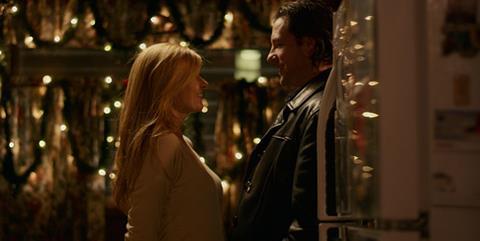 Tis the season to be maudlin in The Fitzgerald Family Christmas, a pedestrian, uninspired account of a tight-knit, two-fisted clan and their exhausting litany of personal problems. It is almost twenty years since actor/filmmaker Edward Burns caught the attention with his acclaimed directorial debut The Brothers McMullen but lightning fails to strike a second time with this return to the working-class, Irish-American roots of the previous film.
Family Christmas plays like a conventional seasonal special of a television drama.
A planned US theatrical release should expect modest returns and will face an uphill struggle to attract international interest in an undistinguished, very American tale.
Burns is the writer, director, co-producer and co-star of The Fitzgerald Family Christmas in which he plays Gerry, the oldest son of the clan and the one who acts as a surrogate father to his six brothers and sisters. He lives at home with their mother Josie (Anita Gillette) and strives to ensure that everyone still feels part of this big unhappy family where " we take care of one another".
Everything changes one Christmas when their dying father Big Jim (Ed Lauter) begs to join the family he abandoned 20 years earlier. Josie has never forgiven him and vows that he would never again set foot over her door. Gerry tries to ensure that the season of peace and goodwill extends to every member of the family.
Most of family seem so preoccupied with the soap opera of their individual lives that they fail to appreciate the anger that their mother still feels. They are too busy to make the effort to attend her 70th birthday as they cope with marriages in crisis, abusive husbands, unreliable boyfriends, a pregnancy, a fresh start after rehab and much more. They are generally self-absorbed and self-righteous.
The problem with Family Christmas is that everyone has something going awry in their lives and feels the need to air it in public which in turn inspires everyone else to discuss, dissect and analyse what it to be done for them. That means an awful lot of heated conversations and emotional incontinence as they negotiate a minefield of festering resentments and old scores that need to be settled. Just to add to all the emotional baggage, Gerry just happens to meet an elderly neighbour's attractive carer Nora (Connie Britton) and it is looks like love at first sight.
Family Christmas plays like a conventional seasonal special of a television drama. The plotlines are drearily predictable, the characters tend towards the unsympathetic, the verbose screenplay never really sparkles or crackles and the unfussy direction is little more than functional.
Production Companies: Marlboro Road Gang
International Sales: Cinetic
Producers: Aaron Lubin, Edward Burns, William Rexer 11
Executive producer: Mike Harrop
Cinematography: William Rexer 11
Editor: Janet Gaynor
Music: P T Walkley
Main cast: Edward Burns, Heather Burns, Anita Gillette, Michael McGlone, Ed Lauter