Fun and games at the launch of Empire's new Big Screen event at the 02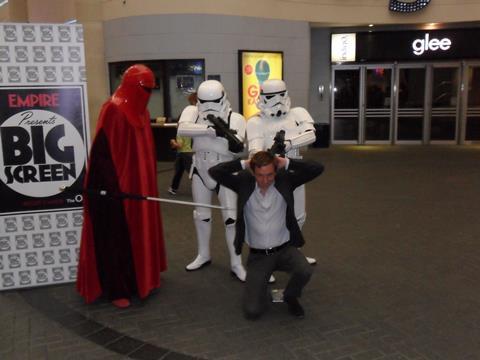 Not too many years ago I still had signed photos of Han, Luke, Boba Fett (surely the coolest character in the franchise) and even Aunt Beru on my wall. Further back I got my poor dad to shell out a fortune on Star Wars models and figures that engulfed my room and even wangled a visit to the set of The Phantom Menace where I was ecstatic to meet Yoda and had a brief chat with Mace Windu.
So, as you can imagine, I wasn't going to pass up an oppportunity to have a lark with some stormtroopers and a member of the Imperial Royal Guard (though not sure about the pink slip-ons) on Thursday at the launch of a cool new festival coming to the O2 this summer.
The event promises to be a really exciting one for film fans and those of Lucas' franchise in particular with a replica Star Wars set and Padawan training school to boot. Not that I'm an aficionado or anything….