Dirs: Harmony Korine, Alexey Fedorchenko, Jan Kwiecinski. US-Poland-Russia. 2012. 106mins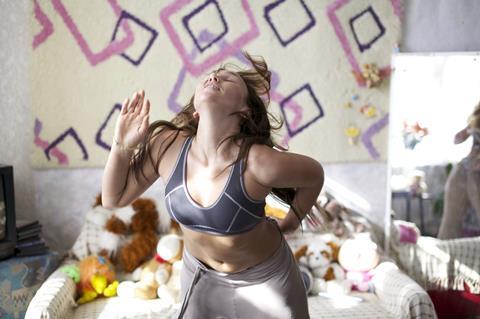 The Fourth Dimension is a self-anointed experiment in space and time, in which three filmmakers explore those notions within mandated arbitrary guidelines that mock those of Dogme 95. The resulting jumble has plenty of energy and lots of jokes – not least of which may be the joke on the public.
The Fourth Dimension feels like a film made for the hell of it.
Conceived by Vice Media purveyor Eddy Moretti, the triptych – two-thirds of which is improvisatory performance as much as it is cinema – is perfect for the festival circuit. Audiences skewing toward the youth market can debate notions of collaboration and novel approaches to storytelling and toast a new source of independent film financing, a fund set up by the Grolsch brewing company.
That novelty will be a challenge to market theatrically, once the element of surprise fades. Shelf life will come from fans of the directors, and the casts, and diehard admirers of Val Kilmer, the movie's only marquee star.
As with any project branded as a "mindfuck" by its initiator, Moretti, this one tends to come from the gut – written quickly and loosely, to allow for the maximum of improvisation, and scornful of any traditional approach toward acting. If there's a casualty here, it's imagination. Each segment works off a familiar template. The paradigm shift is in the project's funding source.
Leading the troika is Kilmer's Jimmy Swaggart moment, The Lotus Community Workshop, directed by Harmony Korine, in which the man who played Jim Morrison is a paunchy long-haired motivational speaker. With a ham's instinct for unstoppable bombast, Kilmer exhorts a congregation that meets in a roller-skating rink to join him in a chorus of "awesome secrets," and then rides away on a child's bicycle to meet a girlfriend less than half his age at a playground.
Korine's short has the look of a studio comedy. Its gospel in the gym is a mix of burlesque elements, conjuring up ideas of time-tested shameless cynicism in aria-form and an equally time-tested American innocence that can lead the public to believe almost anything – including the promise of The Fourth Dimension to re-imagine notions of space and time.
The tone and textures of the trilogy shift in the second chapter, Chronoeye, directed by Alexey Fedorchenko of Russia. For half an hour, the space-time probe takes a break from volcanic post-adolescence. In a grayish palette, a scientist (Igor Sergeev) constructs a time machine that will enable him to observe moments in history. The ambition and ultimate futility of the enterprise are echoed by a tall unfinished tower from the Soviet era in the same city. If dreams are eternal, Fedorchenko seems to be saying, so are failures. If the TheFourth Dimension's experiment has a meditative element, this is it.
Fawns, by Jan Kwiecinski of Poland, returns The Fourth Dimension to a manic centrifugal pace as a gang of young revelers invades a town abandoned in anticipation of a flood, trashing whatever they find, relishing an orgy of crime. Cinephiles can find allusions to The Wild One or to Jean-Luc Godard's Band Of Outsiders. Silent images of empty homes evoke ghostly abandoned towns like irradiated Chernobyl, in nearby Ukraine. The wild looting-as-party (or party-as-looting) spree feels spontaneous, thanks to solid shooting on the run, and deft editing, albeit in the name of silly rebellion.
The Fourth Dimension (especially parts one and three) feels like a film made for the hell of it. There must have been some great parties after shooting. The broader influence of the film will be that of a dare – a challenge to other filmmakers to collaborate faster, at lower budgets, with bigger stars, while pumping up the outrage – on whatever themes that a beer brewer or another brand might want to bankroll. Get ready for some can-you-top-this sequels.
Production companies: Vice Film,Grolsch Film Works
International Sales:WME Entertainment, www.wma.com
Producers:Priya Swaminathan,Matt Elek,Michael Derkits,Charles-Marie Anthonioz,Michal Kwiecinski
Executive Producers:Eddy Moretti,Shane Smith,Thomas Kamphuis,Ronald Van Amergoen,Dmitry Vorobyev,Agnes B.
Associate Producers:Gaetan Rosseau,Dmitry Saltykovsky
Screenplay:Harmony Korine, Alexey Fedorchenko,Jan Kwiecinski, Oleg Loevsky, Yaroslava Pulinovich
Cinematography:Kamil Plocki,Christopher Blauvelt, Shandor Berkeshi
Editors:Leo Scott,Roman Vazhenin, Tymek Wiskirski Psm
Production Designers:Stanislav Kruppa, Artyom Khabibulin, Elliot Hostetter, Anna Wunderlich
Music:Val Kilmer, Nick Zinner
Main cast:Val Kilmer,Igor Sergeev, Darya Ekamasova, Tomasz Tyndyk