Dir: Madeleine Olnek. US. 2013. 90mins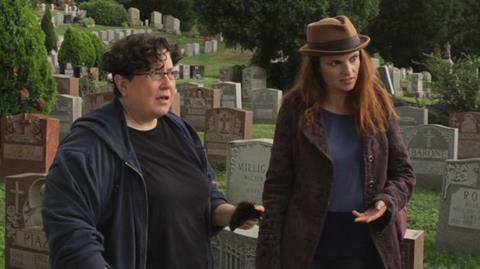 This engagingly left-field lesbian comedy is a self-aware low-budget blend of more posturing male hustler films such as Midnight Cowboy and My Own Private Idaho, but made with a real sense of warmth and indie humour by director Madeleine Olnek, whose Sundance success Codependent Lesbian Space Alien Seeks Same went on to be something of a cult success.
The pair of leads work well together, with Lisa Haas playing the genial foil for the more extrovert Jackie Monahan.
Shot digitally and intermittently as Olnek travelled the festival circuit with her last film, The Foxy Merkins may well lack polish and precision (the sound is downright clunky at times) but it more than makes up with a warm-hearted sense of fun and genial and game performances, especially from the two leads Lisa Haas and Jackie Monahan.
The film had its world premiere at the Sundance Institute presented Next Weekend in Los Angeles. By its nature it is a film aimed at niche screenings, though should also have a healthy festival life.
Rather amateurish and down-on-her-luck asthmatic lesbian hooker Margaret (Haas) has the good fortune to meet the beautiful, confident and wilful Jo (Monahan), who comes from a moneyed background and is far more knowledgeable about picking up women, despite claiming to be resolutely heterosexual.
The pair, who favour sleeping under sinks at a toilet of an evening, set about walking the not-so mean New York streets, and encounter a series of women – from a shopaholic swinger (Sally Stockwell) through to a husky-voiced Republican woman (Susan Ziegler) and her 'maid' (Frances Bodomo), who make Margaret go through some odd police-linked experiences to test her – and gradually come to grow into their unlikely friendship.
But Jo is being pressed into giving up the life by her wealthy mother (Diane Cielsa) and eventually marries and heads to the suburbs, leaving Margaret back on the streets but actually a stronger and more confident woman and even able to now spot a romantic option with a woman (Jennifer Prediger) she had actually met on her first bumbling day on the streets.
The film, though clearly micro-budget and at times acted with enthusiasm rather than precision, is a gentle charmer and punctuated with some delightful dialogue and set-piece sequences. When they go and see a digitally re-mastered screening of Lassie a woman approaches Margaret…but is only after her popcorn, while another woman insists on paying her in coupons for the Talbots store.
Delightfully – while they are wandering a graveyard – there is a discussion about what music Sade might listen to. Jo pithily adds:" There's that line… 'coast to coast, LA to Chicago'…thank God she doesn't work as an air traffic controller."
The pair of leads work well together, with Lisa Haas playing the genial foil for the more extrovert Jackie Monahan. Both appeared in Codependent Lesbian Space Alien Seeks Same, though Monahan's stand-up background shows through as she delivers many of the witty one-liners. Oh, and for the record, a 'Merkin' is a pubic wig.
Contact: contactfoxymerkins@gmail.com
Producers: Laura Terruso, Madeleine Olnek
Executive producer: Tobette Feinberg
Associate producer: Akina Van Der Velde
Screenplay: Lisa Haas, Jackie Monahan, Madeleine Olnek
Cinematography: Anna Stypko
Editor: Curtis Grout
Music: Dan Bartfield
Website: www.foxymerkins.com
Main cast: Lisa Haas, Jackie Monahan, Susan Ziegler, Alex Karpovsky, Sally Sockwell, Deb Margolin