Dir: Miranda July. US. 2011. 91mins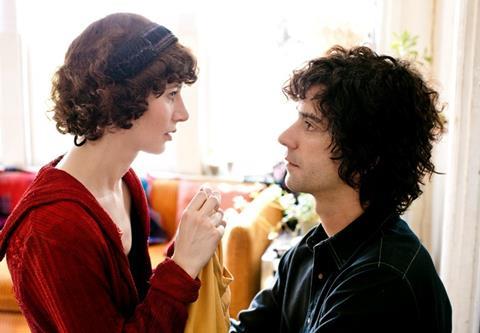 What would you do if you had thirty days to wait before adopting a terminally ill cat from an animal shelter? In The Future, a Los Angeles couple finds that the lives that they choose to live can be as monotonous as the life that they decided to escape.
July and Linklater bring a mundane realism to their portrait of the couple.
Miranda July's new feature, starring the director/writer with Hamish Linklater, is numbing quirky Sundance fare that could charm her indie fans in the US and Europe. That fan base will broaden if The Future plays widely at international festivals. So will the film's theatrical exposure in Europe. In the US the future of The Future is on the art house circuit.
July and Linklater play Sophie and Jason. The dance teacher and tech support helper live in a tiny Los Angeles apartment and hate their jobs. In planning to adopt a sick cat, they realise that owning an animal means sacrificing their freedom, so they decide to live their freedom in the month before they will take the cat home.
In her script, July targets a generational dilemma epitomised by the life and anxieties of Sophie and Jason. How do young people who haven't lived the lives they want to live begin doing so, as they face the inevitability of ageing?
To bring a new perspective to these perennial questions, July includes narration by the ailing cat, Paw Paw, in a high scratchy voice. It reminds you that cats who talk to people can be more annoying than people who talk to cats.
July and Linklater bring a mundane realism to their portrait of the couple, yet the film meanders when the pair's efforts to redefine themselves take a turn into surrealism, with Sophie initiating an affair with a 50-ish man and Jason seeking the counsel of a widower who composes erotic limericks.
Instead of the wonderment of small moments, most of what we get is the banality. Close-ups give the audience plenty of opportunities to explore the subtleties of July's facial expressions. July is also appealing when she talks into the camera of Sophie's perplexity and acts out the frustrations of a dancer who struggles to put her movements on YouTube.
Yet The Future gives us fatalism, rather than the delicate freshness of her first feature, Me and You and Everyone We Know (2005). Cinematographer Nikolai von Graevenitz gives the couple's torpor an appropriately gauzy look. Production designer Elliot Hostetter gets the LA atmospheres just right.
Production companies: Razor Film, GNK Productions, Film4, The Match Factory, HAUT ET COURT, Medienboard Berlin-Brandenburg Filmfoerderungsanstalt
International Sales: The Match Factory, www.the-match-factory.com
Producers: Gina Kwon, Roman Paul, Gerhard Meixner
Executive Producer: Sue Bruce-Smith
Associate producers: Mary Prendergast, Rod Smith, Aaron Beckum
Cinematography: Nikolai von Graevenitz
Production Designer: Elliott Hostetter
Editor: Andrew Bird
Music: Jon Brion
Main Cast: Miranda July, Hamish Linklater, David Warshofsky, Isabella Acres, Joe Putterlik