Dir/scr: Guy Myhill. UK. 2014. 86mins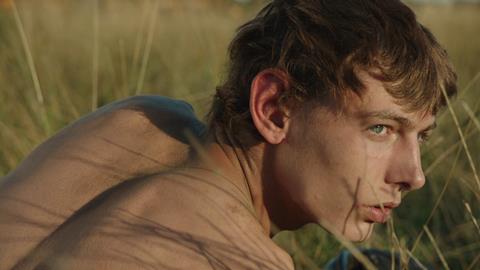 An impressively sustained drama set against the steamy backdrop of a heatwave in the fens of eastern England, The Goob marks an impressive feature debut from writer/director Guy Myhill. A heady blend of the styles of the Dardennes and Clio Barnard/Ken Loach, it offers little new in terms of narrative format, but the performances are all spot on and it offers up a nicely left-field coming-of-age story.
Director Guy Myhill makes great use of the Norfolk locations, with the flat Fenland such a stark contrast to the traditional rolling and bucolic British countryside usually seen on film.
The central story is one of youthful angst, generational conflict, the possibility of young love and rural drama, all presented alongside a fresh view of the typical pastoral British countryside. The flatlands and pumpkin fields of Norfolk where itinerant pickers mix with dysfunctional locals make for a vivid backdrop. Perhaps too modest in scope to really breakout, it could intrigue art house buyers looking for an up-and-coming new talent.
Sixteen year-old Goob Taylor (non-professional actor Liam Walpole) helps his mother (Norfolk raised Sienna Guillory) run a transport café and also harvest the nearby pumpkin fields. His mother has taken up with harsh stock car racer and would-be ladies man Gene Womack (Sean Harris, another locally raised actor), but Goob and his older brother hate Gene and his controlling ways.
After his brother is hurt in an accident, Goob is left alone at home, with increasing tension between him and Gene and pressure from him to see his mother choose between her son and the new man she is attracted to. Gene lays down the law, and makes Goob take a night shift guarding their pumpkin field though at the same time he finds himself falling for Eva (Marama Corlett), one of the newly arrived pickers.
Though the misadventures and would-be romantic antics of 'the Goob' – as he is known to all – is the spine of the film, it is also rather episodic with a series of vignettes accompanying his modest dramatic arc with some characters rather drifting in and out of the film. Goob, his mother and Gene are the central three characters and the heart of the dramatic conflict between the three of them, but most fun is had with supporting characters…and it is appropriate to include the striking Norfolk locations in that list, as Norfolk itself is a key component of the film.
Goob's brother Rodney (Joe Copsey) is integral for a while, but is largely hospital-bound for much of the film; Mary (local actress Hannah Spearritt, who was once with British pop group S Club 7) who works at the café and has just split from partner Levi (Paul Popplewell) looks like she may play a key role, but fades out in the last third, and the deliciously camp Elliott (Oliver Kennedy), who arrives to help out while Rodney is in hospital, makes a strikingly playful impact as he plays around with Goob and Mary, until he vanishes from the story.
In essence all of these characters are there to help mould Goob little-by-little as he finally gathers confidence to rebel in his own small way. Things come to a-head with the arrival of the itinerant pumpkin pickers, with the rather gauche Goob taking a shine to petit and pretty Eva (Corlett), much to Gene's annoyance.
Liam Walpole (who was spotted by a talent scout for the film) is striking as the lugubrious Goob, a rather gangling teen on the cusp of manhood, while Sean Harris is suitably intense of tough as Gene. Also impressive is Sienna Guillory as his mother – she is best know for her recurring role in the Resident Evil film series, but shows she has the range to play a woman torn between reassurance and love of a new man and how to treat the son she also adores.
Director Guy Myhill makes great use of the Norfolk locations, with the flat Fenland such a stark contrast to the traditional rolling and bucolic British countryside usually seen on film. The hot and heady backdrop helps give the film a dramatic edge, and while the story is rather familiar the locations are more than memorable.
Production companies: EMU Films, BFI, BBC Films, iFeatures, Creative England
International sales: Le Bureau Films, aurore@lebureaufilms.com
Producers: Mike Elliott, Lee Groombridge
Executive producers: Christopher Moll, Steve Jenkins, Christopher Collins, Tristan Gologher
Cinematography: Simon Tindall
Editor: Adam Biskupski
Production designer: Ben Myhill
Music: Luke Abbott
Main cast: Liam Walpole, Sean Harris, Sienna Guillory, Oliver Kennedy, Marama Corlett, Paul Popplewell, Hannah Spearritt, Joe Copsey, Martin Ferguson