Dir: Todd Phillips. US. 2011. 101mins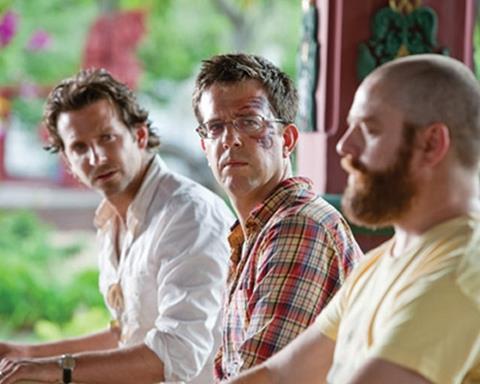 The setting and a couple of minor characters are new, but in too many other respects The Hangover Part II simply re-hashes the R-rated guys-night-out comedy of the original film, the surprise smash of summer 2009. As the follow-up to a sleeper hit, Part II, with Todd Phillips again directing Bradley Cooper, Ed Helms and Zach Galifianakis, will probably open bigger than its predecessor. But it won't have the legs that kept the original going on its way to a $277.3m domestic total.
The new setting gives Part II more edge than its predecessor and, combined with a bit more action and intrigue, makes the sequel a touch darker than the original.
Worldwide distributor Warner opens the sequel in North America in a competitive May 26 Memorial Day weekend slot, a week after Pirates Of The Caribbean: On Stranger Tides and a week before X-Men: First Class. The somewhat increased star power of Cooper (seen recently in The A Team and Limitless) and Galifianakis (Due Date) should help boost the holiday weekend audience.
In the international marketplace, where a number of openings are either day-and-date with or soon after the domestic launch, the Asian setting and cast additions might result in a relatively strong showing (the first film took only 41% of its $467.5m global total outside North America).
The script, by Phillips, Craig Mazin (Scary Movie 3) and Scot Armstrong (Phillips' Old School), follows the template of the first film (written by Jon Lucas and Scott Moore) surprisingly closely.
Two years after their Las Vegas bachelor party misadventure, friends Phil (Cooper), Stu (Helms), Alan (Galifianakis) and Doug (Justin Bartha) journey to Thailand, where Stu is getting married to Lauren (Sucker Punch's Jamie Chung) in a lavish ceremony funded by his disapproving new in-laws (played by popular Thai actors Penpak Sirikul and Nirut Sirichanya).
Despite Stu's best efforts, the bachelor celebration gets out of hand again and the boys wake up in a backstreet Bangkok hotel having lost Lauren's 16-year-old brother Teddy (played by newcomer Mason Lee).
The new setting gives Part II more edge than its predecessor and, combined with a bit more action and intrigue, makes the sequel a touch darker than the original. It also allows more involvement for the first film's crazy gangster character Mr Chow (played again by Ken Jeong), who helps the boys retrace their steps through a local monastery, a strip club and a skyscraper hotel.
Other story elements and comedy scenes, though, are a little too familiar and subsequently less funny than the corresponding bits in the first film. The mysteriously missing Teddy takes the place of the mysteriously missing Doug. A smoking monkey takes the place of the original's baby. Stu gets a face tattoo instead of losing a tooth, comes up with another dopey song and has sex with a she-male stripper instead of marrying a prostitute.
The returning characters – especially Galifianakis' needy man-boy Alan – are not as refreshingly funny this time round and none of the new characters jumps off the screen like Mr Chow did in the original. Paul Giamatti has a couple of scenes as a gangster associate of Mr Chow's though they don't deliver many laughs. Mike Tyson turns up briefly and fairly amusingly, but the film could really have done with the aborted cameo earmarked first for Mel Gibson and then for Liam Neeson.
Production companies: Warner Bros Pictures, Legendary Pictures, Green Hat Films
Worldwide distributor: Warner Bros
Producers: Todd Phillips, Dan Goldberg
Executive producers: Thomas Tull, Scott Budnick, Chris Bender, J C Spink
Screenplay: Craig Mazin & Scot Armstrong & Todd Phillips
Cinematography: Lawrence Sher
Production designer: Bill Brzeski
Editors: Debra Neil-Fisher, Mike Sale
Music: Christophe Beck
Website: http://hangoverpart2.warnerbros.com
Main cast: Bradley Cooper, Ed Helms, Zach Galifianakis, Justin Bartha, Ken Jeong, Paul Giamatti