Dir: Steve Bendelack. UK. 2013. 88mins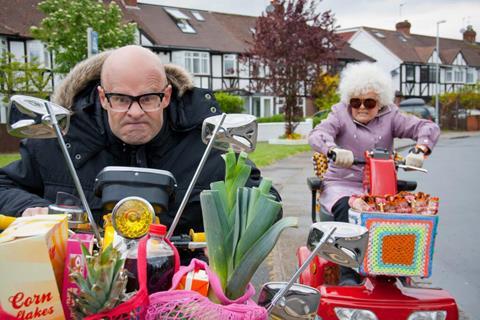 The engagingly surreal British television comedian Harry Hill makes the move to the big screen with this scattershot romp (apparently 'based on a true story'), a broad and resolutely silly film that has moments of oddball pleasure but in the end feels like an extended series of skits that eventually run out of steam.
There are some wonderfully surreal moments, but the script is never more than a series of sketches interlinked into a familiar story.
Enthusiastic turns by Hill – defined by his undersized black suit, oversized white collars, bald pate and black glasses – and Julie Walters, and nice cameos from the likes of Jim Broadbent, Matt Lucas and Sheridan Smith help give the film real moments of humour, but in the end the script can't ever sustain the desire to interlink Hill's off-kilter sense of humour while a smattering of musical interludes hamper rather than help the film's free-flowing format.
Recent attempts to mine big screen success from small screen British comedy hits has met with mixed results – The Inbetweeners Movie was a massive box office and critical success (in the UK at least); Keith Lemon: The Movie was panned, limped at the box office but was a success on home entertainment, while Alan Partridge: Alpha Papa managed to tick the right boxes. Whether The Harry Hill Movie can work quite as well – especially released into a busy Christmas programme – is unlikely, but at least it attempts to click with its fan base in a rather old-fashioned style.
The film opens in breezy and fun fashion with Harry engaged in a race with his nan (Julie Walters giving it all she has) along a suburban street of pastle-coloured houses. After a genuinely funny scene where he attempts to get eggs from the chicken shed in the garden, only to be fought out by feisty chickens armed with World War II machine guns and grenades, he and his nan realise that their pet hamster Abu is seriously ill.
Abu (a puppet, voiced by comedian Johnny Vegas) has been vomiting a green fluid and is soon diagnosed as being terminally ill. Harry, who reckons he can speak hamster, claims Abu's final wish is for a road trip to the seaside town of Blackpool (when in fact Abu says he wants to meet Rihanna), so the three of them are soon of on a road trip.
It turns out, tough, that the vet (Simon Bird, from The Inbetweeners) who diagnosed Abu's terminal illness is in the employ of Harry's long-lost twin brother Otto (Matt Lucas) – who apparently was raised by Alsatians after being left on the roadside by Nan – who wants Abu for himself.
The trip to Blackpool is essentially a device to leverage in a series of comedy skits and musical numbers, some funnier than others (though non of the music lyrics add up to any real humour), with highlights including a trip to a nuclear power station where Jim Broadbent in drag as a cleaning woman shows them around and Abu is turned (for a short while) into a Godzilla-sized rampaging monster; a visit to a Blackpool cabaret show called 'The Dachshund Five" (yes, five performing dachshunds) and Harry's tentative romance with an undersea shell-skinned beauty named Michelle (get it?).
There are more than a few film references along the way – Les Miserables, Kill Bill and in the most surreal moment, Jurassic Park (as Harry and Abu are chased in a kitchen by two raptor-style giant brains on legs with snarling teeth) – before the film spirals off into a by-the-comedy-numbers 'save Abu from danger' scene and all ends happily.
Harry Hill keeps up his delightfully inane smile all the way through; Julie Walters hams it up with gusto and it is a genuine pleasure to see Jim Broadbent in drag, but the film is something of a waste of Sheridan Smith's comedy talents and the musical interludes add nothing to the film. There are some wonderfully surreal moments, but the script is never more than a series of sketches interlinked into a familiar story. It is diverting enough if bumped into on television – but not really worth a cinema outing unless for hard-core Harry Hill fans.
Production company: Lucky Features
UK Distribution: Entertainment Film Distributors
Producers: Robert Jones, Andy Stebbing
Screenplay: Jon Foster, James Lamont
Cinematography: Baz Irvine
Editor: Michael Parker
Production designers: Grenville Horner, Fleur Whitlock
Main cast: Harry Hill, Julie Walters, Simon Bird, Guillaume Delaunay, Matt Lucas, Sheridan Smith, Marc Wootton, Julian Barratt, Jim Broadbent (voice) Johnny Vegas