Brussels born, Italian raised director Giorgio Serafini is currently in post production on his supernatural thriller which shot in the woods of North Carolina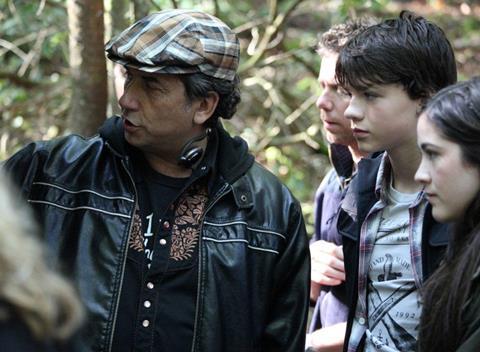 Synopsis: Two teenage twins embark on a camping trip with their father that turns into a perilous adventure as they become lost in a haunted forest.
Director: Giorgio Serafini
Writers: Giorgio Serafini
Producers: Giuseppe Pedersoli of Rome-based Smile Productions and Susan Johnson of LA based Braveart Films
Cast: Isabelle Fuhrman, James Le Gros, Joel Courtney, Peter Bogdanovich and Trace Adkins
Financing: Giuseppe Pedersoli's Smile Production from Italy financed 80% of the movie, the rest was financed by private investments. The third party was the North Carolina tax incentive.
Language: English
Filming location: North Carolina
Status: Post Production
Release date: 2012
Giorgio Serafini: Joel [Courtney] said yes a week before Super 8. Then Super 8 was released and went well, things moved really fast. The rest of the cast followed. This was by far the best cast I ever had. The kids got it so fast, it was amazing. They came on set extremely well prepared and were very professional. They would get directions so fast that I was like, woah I wish all actors were like this.
On shooting in North Carolina:
It started with the idea of the woods. We needed woods. As soon as we came here we all fell in love with the place. It was a really exciting shoot, because it is a part of the US I don't know very well [Serafini moved from Italy to LA in 1994].
The whole film is shot in exterior, all shot in the woods. We had no covered set at all, that was the difficult part. We were worried about the weather, but we've been lucky. We finished on time.
On the inspiration for the story:
The film is a supernatural thriller/drama, therefore it is not directly autobiographical. But because it deals with the pain of family loss and because teenager are the leads I believe that this film, just like Johnny's Gone [Serafini's last film about a teenager who goes missing] was deeply inspired by the death of my daughter Laura in the summer 2005.
I finished the first draft in January, that was the fastest project I ever worked on. It's the first time where I said a story that is very dear to me but using commercial tools. It has a balance between what hopefully will be a very commercial film and also a very personal project.
On comparisons with his previous film Johnny's Gone, which won best feature, director, actress and screenplay awards at Atlantic City Cinefest 201 before going on to screen at the Hollywood Film Festival last month:
Johnny's Gone was a completely different adventure. It was on a shoestring budget and was a project from the heart. It's the kind of film you do at the beginning of your career. To be able to do it with very experienced people, and to have experience myself was great. The budget was so low, we had total creative freedom. The reason why the film is so dear to my heart is that it deals with the pain of loss and 6 years ago I lost my daughter. It's one of those cathartic experiences. I didn't do the film for myself, hopefully it will find its audience.
I'm working with an editor, it's going to take another four or five months of post. After that I have an idea for another small project with the same group of people.