Dir: Peter Jackson. US-New Zealand. 2013. 161mins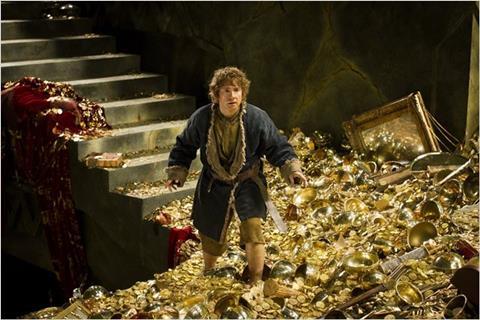 Rather than suffering from that 'middle film in a trilogy' syndrome, The Hobbit: The Desolation Of Smaug is a freewheeling and exciting second film that moves at a breathless pace offering up entertainment and excitement in equal measure and ends on a dramatic high that will have fantasy fans desperate for more. Likely to be a strong Christmas performer, it may well be hefty in terms of its running time but its epic scale and sheer dramatic zest will likely see it leaving other festive films in its wake.
As a film it may well have its emphasis on rollercoaster-ride action, but it always looks terrific.
Director Peter Jackson seems now so at ease in J.R.R. Tolkien's Middle Earth (and even sneaks in a quick cameo in the film's opening scene) that he is able to take subtle liberties with the source material and not upset hardcore fans. This time round the welcome appearance of Elvish archer Legolas (Orlando Bloom) from the original The Lord Of The Rings trilogy may not tally with the original book, but it fits nicely into this version of Tolkien's fantasy world, especially when it comes to helping momentum and pacing at the core of the film.
The first Hobbit film headed north of the $1billion mark, and this next film, which opens December 13 in many international territories seems likely overtake that figure. Technically it is superb – one takes the top-notch 3D and high frame rate as read these days – but more importantly it connects as a romping adventure film that moves with a breathless quality and which also fleshes out its many characters in between bouts of action.
Yes the heart of the film is still the grand adventure and quest facing Bilbo Baggins (an increasingly excellent Martin Freeman), Gandalf (Ian McKellen) and their company of 13 dwarves lead by Thorin Oakenshield (Richard Armitage) and their journey to the Lonely Mountain where waits the dragon Smaug, but around the edges the characters and their places in Middle Earth are so well drawn that the film fits together snugly..
The story picks up straight from the last film – though there is also a nice prologue, taken from The Quest of Erebor, one of Tolkien's supplemental Unfinished Tales that details a meeting between Gandalf and Oakenshield in which they play the assault on the Lonely Mountain – with more shots of the group wandering over majestic landscapes with a band of nasty Orcs on their trail.
But Jackson soon injects some dark tension into the proceedings as the party head into the gloomy and frightening Mirkwood (and a close encounter with some gigantic spiders) before being held captive by the Wood-Elves ruled by Thranduil (Lee Pace). This allows the re-entry to the film series of Legolas and the introduction of beautiful elf warrior Tauriel (Evangeline Lilly), and also racks up the martial arts style combat as the pair of expert archers and fighters defend the dwarves as they escape downriver, floating in barrels and fighting off Orcs as they bounce along the rapids.
The pace settles briefly as the band are smuggled into Laketown by Bard (Luke Evans), a seemingly mild-mannered bargeman who naturally has his own secret. The town – which straddles numerous waterways – is ruled by the gluttonous Master (an engaging performance from Stephen Fry), with the townspeople living in fear of their proximity to the Lonely Mountain.
With their number dwindling due to injury or ineptitude (plus Gandalf leaves the band to pursue his own mission) the Hobbit and the dwarves finally make it into the Mountain where Baggins' supposed skills as a 'burglar' sees him finally come face-to-fire-breathing-face with Smaug (voiced with slithering and cruel charm by Freeman's Sherlock co-star Benedict Cumberbatch).
A wonderfully sustained tussle between dwarves and dragon ensues before Peter Jackson ends the film on an action-packed high and leaves his audience desperate for more with yet another cliffhanger. The final section simply flies by and is a miracle of special effects, especially as Bilbo slips and slides his way around the mountains of gold coins as he does verbal battle with Smaug.
Martin Freeman does an excellent job as the loyal and brave Hobbit, gradually layering his performance and developing it from the fun-loving type in the first film to someone who finds courage and determination in the second. His battle his not just with Smaug but also with temptation as he starts to find the lure of the Ring almost unbearable. Ian McKellen delivers his usual haughty gravitas as Gandalf while Evangeline Lilly (who handled action pretty well in Lost) brings some much needed female perspective to the proceedings and proves her character is as much a bad-ass as Legolas when it comes to the Orc-killing stakes.
As expected, the film looks magnificent with the New Zealand locations as atmospheric as ever and the special effects sequences dove-tailing perfectly with this tale of epic adventure. As a film it may well have its emphasis on rollercoaster-ride action, but it always looks terrific.
Production companies: Wingnut Films, New Line Cinema, MGM
Distribution: Warner Bros
Producers: Peter Jackson, Carolynne Cunningham, Zane Weiner, Fran Walsh
Executive producers: Alan Horn, Toby Emmerich, Ken Kamins, Carolyn Blackwood
Co-producers: Philippa Boyens, Eileen Moran
Screenplay: Fran Walsh, Philippa Boyens, Peter Jackson, Guillermo del Toro, based on the novel by JRR Tolkien
Cinematography: Andrew Lesnie
Editor: Jabez Olssen
Production designer: Dan Hennah
Music: Howard Shore
Main cast: Martin Freeman, Ian McKellen, Richard Armitage, Benedict Cumberbatch, Orlando Bloom, Evangeline Lilly, Lee Pace, Luke Evans, Stephen Fry, Ken Stott, James Nesbitt, Mikael Persbrandt, Sylvester McCoy