Dir: Barry Levinson. US. 2014. 112mins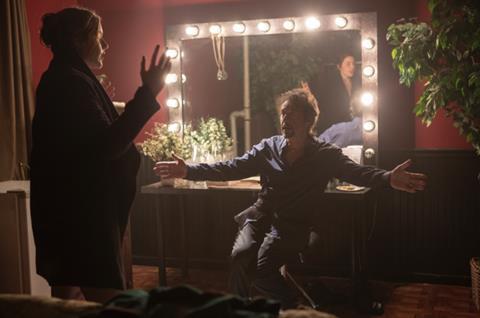 Al Pacino is in top Al Pacino mode in Barry Levinson's loose and often invigorating adaptation of Philip Roth's penultimate novel. Playing a famed stage actor who becomes depressed and then suicidal when he loses his craft the film offers Pacino the physical and verbal challenges that he relishes and unsurprisingly he dominates a film that is engaging but languid and only intermittingly amusing and provocative.
Pacino is a pleasure to watch as he grips the character tight and gives the film his all.
It is one of those festival quirks that it arrives to premiere in Venice a few days after Alejandro González Iñárritu's more inspired Birdman. Both chart the mental collapses of an actor seeking to get his mojo back, but Levinson's The Humbling is less showy and perhaps more traditional – despite Roth's sexual shenanigans that punctuate the story – as it allows Pacino to flail around in his worries about fighting a losing battle with age at the same time as he loses his acting gift. Pacino will naturally be a draw for audiences – plus awards voters may fall for his sparkly performance – plus casting of the impressive Greta Gerwig may intrigue her indie fans, but the film may be a challenge to promote.
The film opens with a confused Simon Axler backstage putting on his makeup ready for a Broadway production of Shakespeare's As You Like It. Lost in his lines, his imagination plays tricks with him as he tries variations on his lines, and when finally on stage he loses the plot – so to speak – altogether and seeing a bored audience out there takes a swan dive into the orchestra pit. Rushed to hospital (and sill performing, asking a nurse on the quality of the delivery of his moans of pain) he soon finds himself on a month-long stay at a plush psychiatric hospital.
He talks in group therapy about losing track of his craft (though is clearly in performance mode), and there attracts the interest of Sybil (Nina Arianda), the wife of a wealthy businessman who claims her husband sexually abused their young daughter and – because Simon had played a killer in one film – asks brazenly if he would murder her husband.
Before long the 67 year-old actor is out of the institution and back in his Connecticut home he has lived in for years (where he has never fully unpacked and only lives on the ground floor) and mulls over depression and suicide, until the out-of-the-blue appearance of Pageen (Gerwig), the daughter of old actor friends, who tells Simon she has long been in love with him.
Of course he adores the attention, and while bemused that Pageen tell him that she is a lesbian, is soon in love with her. It is to Gerwig's credit that she makes the rather uncomfortable age gap seem vaguely convincing (though it never quite works) and the film tries to cover up things by dallying on sex toys left around the house and found by his cleaner and the added complications in Pageen's life – including angry parents; a former lover (Kyra Sedgwick) at the college where Pageen teaches and the arrival at the house of Prince (Billy Porter) a recent female-to-male gender reassignment patient who was once Pageen's partner.
If the first part of the film (Axler's collapse and time in the clinic) were rather ponderous, things get much more complex and pacy from now on in, and also flies uncomfortably close to lurid sexual fantasy as Axler does all he can to hang on to the fickle (in his vision) Pageen. Gerwig has to veer between romantic partner and keen lover through to selfish woman-chaser and it is to Gerwig's credit that she keeps the character intriguing and oddly compassionate. Of course much the film presents of Pageen is via the prism of Axler's confused brain, with his paranoias coming to the surface as he looks to head back to the stage – to play King Lear of course – in a bid to impress Pageen.
There some delightful comedy moments from Pacino (especially due his characters bad bag and a pain-killing injection he gets at a vets that sees him a mumbling mess) as well as some soaring line deliveries, and while it is a bold performance playing a faded actor you are never quite convinced he has lost everything in the same way that Michael Keaton does in Birdman. Saying that, Pacino is a pleasure to watch as he grips the character tight and gives the film his all.
Production companies: Millennium Films, Baltimore Pictures, Dubin Media
International sales: Millennium Films
Producers: Jason Sosnoff, Barry Levinson
Executive producers: Kristina Dubin, Avi Lerner, Trevor Short, Ged Dickersin
Co-producers: Andrea Iervolino, Monika Bacardi, Gisella Marengo
Co-executive producer: Lonnie Ramati.
Screenplay: Buck Henry, Michael Zebede, based on the novel by Philip Roth
Cinematography: Adam Jandrup
Editor: Aaron Yanes
Production designer: Sam Lisenco
Music: Marcelo Zavros
Main cast: Al Pacino, Greta Gerwig, Nina Arianda, Charles Grodin, Mary Louise Wilson, Dan Hedaya, Dianne Wiest, Billy Porter, Lance Roberts, Li Jun Li, Kyra Sedgwick, Victor Cruz, Derrick Arthur, Steve Rosen, Andrea Barnes, Dylan Baker