Lionsgate's adaptation defeats Pirates!, Wrath Of The Titans and StreetDance 2 to retain top spot for second consecutive week.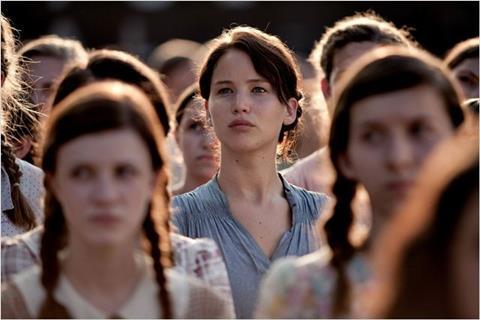 In a highly competitive week at the box office as schools broke up for the Easter holidays, The Hunger Games turned in an impressive second week performance to remain the UK's number one film.
Lionsgate's adaptation of Suzanne Collins' best-selling novel followed up a strong mid-week performance - where it made around $3.0m (£1.9m) Mon-Thurs - with a $4.8m (£3.0m) weekend for an excellent $15.7m (£9.8m) tally after ten days in play.
With schools off for two weeks now, there's little sign of it slowing down although it does face further competition, albeit one skewed to a younger audience, with the arrival of StudioCanal's Mirror Mirror which opens from today (April 2).
Although it failed to commandeer the number one spot, Sony's The Pirates! In An Adventure With Scientists! opened decently in second with am estimated $3.6m (£2.3m) bounty. The latest from Aardman Animations managed to top the opening of their previous effort Arthur Christmas, which debuted with $3.4m (£2.1m) back in November but enjoyed an excellent run to make $33.4m (£20.8m) overall.
Narrowly behind in third based on non-final figures - the distributor claimed second, so this could change when figures are confirmed - was another new opener in the form of Warner Bros.' 3D sequel Wrath Of The Titans which grossed $3.5m (£2.2m) from its 468 sites at a per-site average of $7,469 (£4,655). Its debut is less than half of its predecessor's which topped the chart in its opening weekend after a $9.1m (£5.7m) bow.
Continuing to showcase terrific resolve in fourth was Sony's 21 Jump Street which fell just 11% in its third week. The comedy now stands at $9.0m (£5.6m) after adding a further $1.7m (£1.1m).
Vertigo's sequel StreetDance 2 rounded off this week's top five after debuting with a provisional $969,081 (£604,183), some way down on the $4.0m (£2.5m) opening enjoyed by StreetDance 3D in 2010.
This week sees saturation releases for StudioCanal's Mirror Mirror (opening from today, April 2), eOne's The Cold Light Of Day and Fox's 3D re-release of Titanic, which ranks as the fourth biggest film of all time at the UK box office. Momentum's Jo Nesbø adaptation Headhunters receives a wide release.