Dir: Gary Ross. US. 2012. 142mins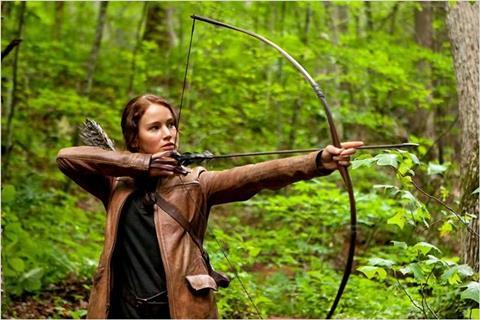 Dystopian sci-fi, tense action-thriller, soapy teen romance, grim social commentary: The big-screen adaptation of The Hunger Games certainly doesn't lack for ambition, and although it's mostly successful, one can't help wishing the film could have better integrated its different tones and agendas. Based on the popular first novel in Suzanne Collins' trilogy about a dark future society where young people must kill each other for sport, this much-anticipated film is anchored by Jennifer Lawrence's strong central performance, which helps compensate for a somewhat derivative storyline and worldview.
Making Katniss tough but sympathetic, Lawrence creates an emotional rooting interest from the start.
The film's tagline – "The World Will Be Watching" – refers to the televised titular contest, but it also serves as an apt prediction for the movie's box office prospects. Lionsgate hopes they've found their own Twilight/Harry Potter/Lord Of The Rings fantasy franchise, and certainly awareness for The Hunger Games is high. The only downside for Lionsgate may be the studio having to temper industry expectations if their film falls short of the unbelievably high commercial bar set by three of the most popular screen series of the last decade. So the question will be not whether Hunger Games makes a killing but, rather, just how spectacular the grosses will be.
Kicking off with only a brief bit of written exposition, the film plunges us into the story's futuristic setting. Each year, the nation of Panem selects one boy and one girl between the ages of 12 and 18 from each of its 12 districts to compete in The Hunger Games, a televised battle to the death where the final survivor is declared champion. Katniss Everdeen (Lawrence) volunteers from her district to spare her younger sister, and soon she finds herself travelling to the deadly event with Peeta Mellark (Josh Hutcherson), her district's male participant.
Running just a few minutes shy of two-and-a-half hours, The Hunger Games is almost exactly divided between a first section in which the characters and their world are introduced and the second half in which Katniss and her fellow combatants face off. Directed by Gary Ross (making quite a departure from his previous two efforts, Pleasantville and Seabiscuit), the film works best in its matter-of-fact depiction of a nightmare society in which materialism and bloodlust have escalated – not to mention people's thirst for reality-based entertainment. Working from Collins' 2008 novel – she's credited as one of the film's screenwriters and executive producers – The Hunger Games paints a portrait of a world that has so embraced sensation and spectacle that its humanity has almost been wiped clean.
In the movie's early stretches, Lawrence shows real grit as a young woman from Panem's poorest district who must be the steady rock for her ineffectual mother and adoring younger sister. While Katniss would seem to be a very different role than her Ozark heroine from the Sundance hit Winter's Bone, Lawrence's steely determination binds them together in a way that makes it apparent why the filmmakers would choose her for the part. Making Katniss tough but sympathetic, Lawrence creates an emotional rooting interest from the start.
This is crucial considering that The Hunger Games can be uneven dramatically. While the movie's bleak vision – ably brought to life by long-time Clint Eastwood cinematographer Tom Stern – is arresting, the attempts to satirize society's reality-TV obsession can be awfully heavy-handed and repetitive at times. (Also unfortunate is the fact that The Hunger Games is the umpteenth dystopian film in which civilization's moral decay is visualized by having the characters wear the tackiest, silliest costumes imaginable.)
Of course, the story's centrepiece is The Hunger Games, which focuses the action around Katniss and Peeta while a lot of the supporting characters we've met (including those played by Woody Harrelson and Elizabeth Banks) drift into the background. Taking place in the midst of lush woods, the contest conjures up memories of other dangerous forests from fairy tales like Red Riding Hood or Snow White. Instead of being action-packed, though, the film's second half spaces out its battles, creating palpable dread as we (and Katniss) wait for the next attack. When they do come, they have a visceral, unsettling quality to them, which might make the movie too intense for younger viewers.
Sadly, there's a sense of familiarity that The Hunger Games can't completely shake off. Recalling everything from Lord Of The Flies to A.I. to The Running Man to the cult Japanese thriller Battle Royale, the movie feels more like a solidly crafted amalgam of disparate influences than a wholly original vision. (Adding to this feeling is effects work that can occasionally look less than cutting-edge.) Still, what holds The Hunger Games together is the filmmakers' laser-like focus on Katniss, creating a most unlikely coming-of-age story in which a shy tomboy finds love and self-confidence in the deadliest of situations.
Of the rest of the cast, Hutcherson is likeable as Peeta, although it's a pity he and Lawrence aren't given enough screen time before their attraction needs to start building near the end. The bigger names who make up the supporting players – including Banks as Katniss's chaperone and Stanley Tucci as a megalomaniacal talk show host – don't have a lot to do, which too often results in performances that lean uncomfortably close to caricature. Interestingly, one of the highlights is musician Lenny Kravitz, who plays Katniss' sweet and supportive stylist with an understated ease that didn't rub off on some of his castmates.
Production company: Color Force
Domestic distribution: Lionsgate, www.lionsgate.com
Producers: Nina Jacobson, Jon Kilik
Executive producers: Robin Bissell, Suzanne Collins, Louise Rosner-Meyer
Screenplay: Gary Ross and Suzanne Collins and Billy Ray, based on the novel by Suzanne Collins
Cinematography: Tom Stern
Production designer: Philip Messina
Editors: Stephen Mirrione, Juliette Welfling
Music: James Newton Howard
Website: www.thehungergamesmovie.com
Main cast: Jennifer Lawrence, Josh Hutcherson, Liam Hemsworth, Woody Harrelson, Elizabeth Banks, Lenny Kravitz, Stanley Tucci, Donald Sutherland