Dir: Park Jae-hyun. South Korea. 2014. 107mins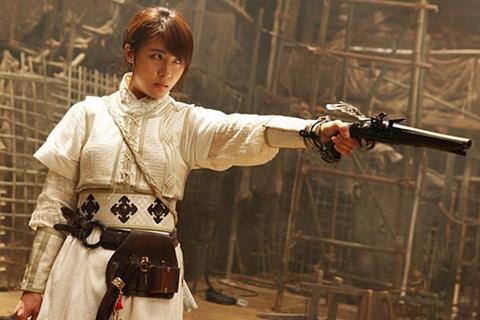 A playful period blend of The Three Musketeers and Charlie's Angels, South Korean action-comedy romp The Huntresses offers up some modest mainstream girl-power fun, though will disappoint action fans out for a dash of martial arts mayhem. It is at its best as genial, frothy adventure but loses its way when it comes to the fully blown action scenes, despite the fact it is impressively designed and brimming with knowing over-the-top performances.
The film can never quite find the right balance between action and old-fashioned sentimental drama.
The heroic threesome, played with zest by Ha Ji-won, Kang Ye-won and Son Ga-in (best known as a member of K-pop group Brown Eyed Girls), are a band of tough bounty hunters in Joseon era Korea, each with specific fighting skills (though favouring similar distinctive white outfits) and a get-their-man-at-all-costs attitude.
The first film produced by management company Wellmade STARM – which manages Ha Ji-won and Kang Ye-won – has the laughs and modest action to work with the local family market, and could appeal to home entertainment overseas, where its blend of rather innocent action and attractive leads make it an easy sell.
The group's leader is Jin-ok (Ha), still haunted by witnessing her father's murder at a young age, and she is joined by more straight-laced Hong-dan (Kang) and newcomer Ga-bi (Son). They are issued assignments by corpulent Moo-Myung (Ko Chang-seok), though their latest assignment turns out to be the most complex and deadly they have faced.
Secret envoys due to deliver a 'stauroscope' – the MacGuffin of the film – to the King of the Joseon dynasty but are killed by assassins. The bounty hunters are recruited to track down the stauroscope, but find themselves under attack by an army of assassins, with Jin-ok having to face up to the man responsible for the death of her father.
The film – which has the literal title translation of 'The Joseon Beautiful Three" – can never quite find the right balance between action and old-fashioned sentimental drama, but its final action scenes are impressively staged and make great use of the stylish sets, with Ha Ji-won (who starred in Lee Myung-se's 2005 film The Duelist) the best of the fighting trio.
Production company: Wellmade STARM
International sales: Showbox/Mediaplex Inc., www.showbox.co.kr
Producer: Kang Chul-kyu
Screenplay Kim Ha-young, Kang Chul-kyu, Kim Ba-da
Cinematography: Yoon Gang-jun
Editor: Steve M Choe
Music: Hwang Sang-jun
Main cast: Ha Ji-won, Kang Ye-won, Son Ga-in, Joo Sang-wook, Ko Chang-seok, Song Sae-byeok