Dir: George Clooney. USA. 2011. 101mins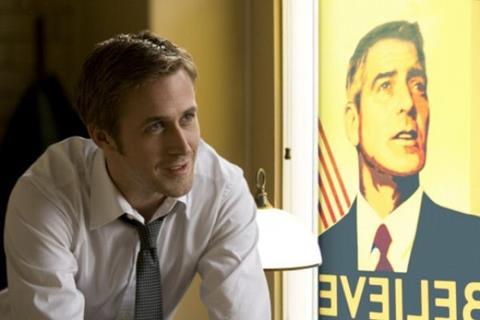 A dark and well-crafted parable of American political ethics - or the lack of them - George Clooney's second delve into the US political arena after Good Night, And Good Luck confirms his talents as director and the creative fertility of his screenwriting and producing partnership with Grant Heslov. And in his compelling performance as a young, politically committed campaign press secretary who learns to trade dirt and sell his soul, it also consecrates Ryan Gosling's apparently inexorable rise from indie promise to Oscar-booking leading man.
The tight script and steady-handed control of atmosphere help Gosling.
It's paradoxically the neatness of the script that is the film's only real fault, as the Mamet-like switchbacks of the later stages reveal that what started as an intelligent and often darkly comic analysis of the Realpolitik of presidential campaigns is actually more of a conventional power-play thriller.
But this flirtation with the genre mainstream will only boost Ide's commercial prospects compared to the talky, austere Good Night, And Good Luck. Sony's bringing forward of the release date to from December to mid-October suggests a swaggering confidence and the prospect of a muscular awards-season campaign that should be echoed by upbeat box office (at least as much international as domestic) for this stylish and just a little retro drama of political abasement. And although it's not exactly a feelgood product, Ides of March will also benefit from canny mood-of-the-nation timing as Barack Obama's re-election campaign gets underway. With Obama 2, jaded is the new starry-eyed.
Close in storyline and occasionally in mood to Michael Ritchie's 1972 political satire The Candidate but with shades of Sidney Lumet and a cut or two from Robert Altman's unforgiving ironic scalpel, The Ides Of March follows in the recent tradition of films like Michael Clayton or People I Know, making disenchantment tasty in true seventies style.
The story centres on a make-or-break Democratic primary in Ohio on 15 March - the famous 'ides' of Julius Caesar's back-stabbing assassination - between two presidential candidates. Our man, Governor Mike Morris (Clooney), is a slick political animal but also a seemingly good and sincere reformer, who is not afraid to defend his religious agnosticism in TV debates, espouse 'socialist' policies, defend a woman's right to choose and (in a neat combination of homeland security and Green agenda that plenty of US politicians will be wishing they had thought of - or maybe they have) push non-fossil-fuel alternatives (thus reducing dependence on Arab oil) as an essential part of the war in terrorism.
The nice thing about Ryan Gosling's character, Stephen Meyers, is that he's not exactly an idealist: as Morris' campaign press secretary, and working closely with his mentor and boss, Morris' campaign manager Paul Zara (Hoffman), he isn't afraid to smear the rival candidate to buy time and votes, or use the press (in the form of Marisa Tomei's New York Times correspondent Ida Horowicz) to plant stories.
But he is clearly fired by a belief in the greater good of how Morris will change the country for the better once elected. His problem is hubris: an enfant prodige of only 30, he gets off on the sexy adrenalin of the campaign and his own talent so much that he makes two big mistakes - agreeing to a meeting with cynical rival campaign manager Tom Duffy (Giamatti, never more insidious), and bedding pert and forward young intern Molly Stearns (Wood). Clooney has less screen time, but he nails perfectly that baffling mix of substance and vacuousness that so politicians display, without ever quite losing our sympathy.
The Ides Of March wrong-foots us as it progresses, starting off in affable satirical mode but turning bleak and implacable as Stephen wins by sacrificing what made him care, and what makes him human. The tight script and steady-handed control of atmosphere help Gosling out here: settings in Ohio and Michigan are chosen to good effect to channel a mid-West that is miles from the usual heartland clichés. Icy slush on the streets, brown rivers under industrial ironwork bridges (Cincinatti's 1866 Suspension Bridge), cheap bars and chain hotels are the backdrops to Phedon Papamichael's moodily-lit cinematography, which darkens with the story. Alexander Desplat's score also convinces, its solemn, sometimes militaristic drum and trumpet melodies playing a game of disturbing counterpoint in the film's lighter first half.
Production companies: Exclusive Films International and Cross Creek Pictures present in association with Crystal City Entertainment a Smokehouse/Appian Way production
US distribution: Sony Pictures Entertainment
International sales: Exclusive Films International, www.exclusivemedia.com
Producers: Grant Heslov, George Clooney, Brian Oliver
Executive producers: Leonardo DiCaprio, Stephen Pevner, Nigel Sinclair, Guy East, Todd Thompson, Nina Wolarsky, Jennifer Killoran, Barbara A. Hall
Screenplay: George Clooney, Grant Heslov, Beau Willimon, based on the latter's play Farragut North
Cinematography: Phedon Papamichael
Editor: Stephen Mirrione
Production designer: Sharon Seymour
Music: Alexander Desplat
Main cast: Ryan Gosling, George Clooney, Philip Seymour Hoffman, Paul Giamatti, Marisa Tomei, Jeffrey Wright, Evan Rachel Wood