Spanish director Juan Antonio Bayona's first English-language drama The Impossible is hotly anticipated thanks to its A-list stars, Ewan Mcgregor and Naomi Watts and the success of his debut feature The Orphanage.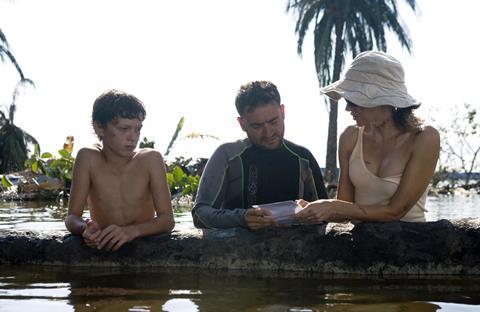 Synopsis: An English couple travel on holiday to Thailand for Christmas but get caught up the Tsunami along with several other tourists and locals.
Director: Juan Antonio Bayona
Writers: Sergio G Sanchez
Producers: Enrique Lopez Lavigne, Belen Atienza, Alvaro Augustin
Cast: Ewan McGregor, Naomi Watts, Tom Holland, Marta Etura, Russell Geoffrey Banks
Financing: Telecinco Cinema, Summit Entertainment, ICAA, IVAC
Language: English
Countries of Production: US, Spain
Status: Production
Release date: End of 2011
Spanish director Juan Antonio Bayona was not short of offers from Hollywood after his 2007 horror The Orphanage becaome the highest grossing local film in Spanish history taking $38m through Warner Bros. But it wasThe Impossible that grabbed him the most.
"Bayona and Sergio G Sanchez (writer of The Orphanage) were immediately taken by the story of a family caught up in the Tsunami, which was presented to them by Spanish producer Belen Atienza at Spanish outfit Apaches Entertainment," says Ghislain Barrois, CEO of Telecinco Cinema, the film wing of Spanish broadcaster Telecinco, who are majority financiers of The impossible and also backed The Orphanage.
The central focus of the story is on an English family on holiday in Thailand for Christmas who get caught up in the Tsunami of 2004 which killed more than 200,000 people. The parents of the family will be played by Ewan McGregor and Naomi Watts, who during the film get caught up in other people's tragic situations.
"It is not a typical Hollywood disaster movie," says Barrois. "Yes the Tsunami will be strong and have a powerful impact, but it is more about the aftermath and the drama that follows."
This idea and the quality of the director, cast and producers involved (Belen Atienza and Enrique Lopez Lavigne at Apaches Entertainment and Alvaro Augustin at Telecinco Cinema) attracted major US outfit Summit Entertainment to join the project as distributor in North America and holders of worldwide sales rights, excluding Spain where Warner Bros will distribute. Summit International president David Garrett and senior vice-president of acquisitions and co-productions Michael Schaefer will oversee the project for the company.
The whole team involved in the project is determined to make the drama look as realistic as possible and even spoke to people who had survived the disaster and drafted in specialists. This attention to detail was reflected in the first part of the shoot which took place in the water tank at the Ciudad De La Luz studios in Alicante, Spain where the Tsunami's flooding effect was filmed earlier this year.
"The strength of the sea was so strong that you had a river of water going inland for miles and miles and then it withdrew taking with it lots of people. There is real footage from video cameras of this happening, but it was very challenging technically to convey," says Barrois. "We spent a lot of time and money looking at how we could create a vortex effect in the colossal water tank. Bayona and all of us wanted the movie to be extremely faithful to what happened, and rely as little as possible on special effects."
Shooting is now taking place in Thailand until February and will then move back to the water tank at Cuidad De La Luz for the final big wave effect, before post production work is done in Spain.
In terms of financing, the producers are reluctant to reveal the total budget of the film because they feel it would be counter-productive, especially after Telecinco Cinema's previous big project, Alejandro Amenabar's Agora, was dubbed "the €50m project". But Barrois confirmed that it would be "smaller than Agora, and much larger than The Orphanage ($5m)."
Telecinco is providing the majority of the funds (around 70%) for the film, with the remaining money coming from Summit and subsidies from the Spanish film institute (ICAA), plus a further €1.98m has been assured by the Valencian film institute (IVAC) thanks to local spend of €12.4m in the region.
Summit pre-sold the film to most of the world at Cannes earlier this year without a single frame having been shot, basing their pitch on a teaser trailer, marketing material, the script, Bayona's name and the talent involved.
Barrois expects the film to be ready by the end of 2011 with the intention of premiering it at either Cannes or Berlin in 2012.
Next up: Apaches Entertainment is next set to work on a sci-fi thriller in the mould of District 9 called Windows which will be written and directed by Nacho Vigalondo and will be shot in Spain in both English and Spanish with a leading cast. Apaches is also hard at work on Juan Carlos Fresnadillo's horror/thriller Intruders, starring Clive Owen, and is in post on multi-award winning director Eduardo Chapero Jackson's hotly anticipated drama Verbo.
Telecinco Cinema has a number of new projects in development, including a couple of big budget films which will shoot in English with Spanish directors, which they took to AFM and according to Barrois the reaction was excellent. More details on these projects are expected to be announced next year.