Dirs/scr: Damon Beesley, Iain Morris. UK . 2014. 96mins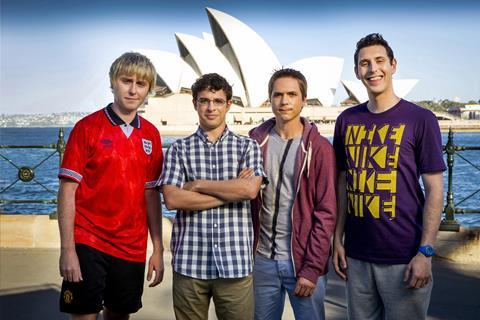 Hilariously crude and unrepentantly rude, British comedy sequel The Inbetweeners 2 will likely be box office gold in the UK where its much-loved characters have a cult following. The 2011 television spin-off film The Inbetweeners Movie took a staggering $67m (£45m) at the UK box office and raked in a further $20m when it rolled out internationally. A tough act to follow – but the Inbetweeners lads have given it a really good go.
The four actors are all so at ease with their characters that it is delightful seeing them bring out the complexities and fears of their characters as well as their simple teen passions and paranoias.
Of course the key question with this sequel is just how long the four lead actors – now aged between 26 and 30 – can convince on screen as university age students. The original Channel 4 sitcom saw then as social misfits stuck between childhood and adulthood (aka 'inbetweeners'), charting their school and social pratfalls and desperate embarrassments, but now they are – supposedly – late teens and trying to adjust to even greater social pressure.
The first movie (in that great tradition of UK television spin-offs) saw the foursome – Jay (James Buckley), Neil (Blake Harrison), Will (Simon Bird) and Simon (Joe Thomas) – finish their last term at school and head off for a package tour holiday to Malia, in Crete. The film replicated the raunchier aspects of the TV series as the foursome headed into the sun in search of sex, music, sex, drink and some more sex. It is (and was) familiar teen comedy stuff, but handled such so much charm and leering good humour that it clicked with audiences.
This time round Neil, Will and Simon receive an invite from Jay to join him in on his gap year in Australia which he promises them it's "the sex capital of the world". With their lives rather dull and unhappy (Will has no friends at university, Simon is having girlfriend issues and wonderfully naïve Neil just fancies a break) it's an offer they can't refuse.
Of course it turns out that Jay – as usual – has been lying and rather than living the hedonistic high life is working as a toilet attendant at a Sydney nightclub and living in a tent in his uncle's front garden. After Will meets old schoolfriend - and once love of his young life – Katie (Emily Berrington), who is doing that backpacking thing, the foursome decide to follow her to Byron Bay in pursuit of, well, sex.
There are various engaging subplots. Simon keeps on trying to break up with his needy girlfriend by Skype but keeps getting into more problems; Jay is actually in Australia to track down his old girlfriend who he still loves (much amusing quivering of his lower lip in sorrowful sadness); Neil wants to swim with dolphins and help change their all sea-food diet, and Will just wants to be part of the middle-class student backpacking fraternity…and get it on with Katie.
The fact that they set out on their journey of a lifetime in a tatty car (or as Jay dubs it, "the classic Australian shagging wagon") replete with illustrations inspired by Peter Andre's Mysterious Girl and the words 'Mobile Virgin Conversion Unit' speaks volumes.
But if you like your comedy hilariously rude and crude then The Inbetweeners 2 is a must see film. Yes it is rather British (what with the accents, clothes and class issues) but it is also laugh-out-loud funny with a smooth (yet familiar) plot, nicely deverloped characters and a real determination to see through its very funny gross-out moments to the level that many US teen comedies may not have the courage to go to.
A ride down water park tube is a cringingly hilarious opportunity for a character to see himself chased by a large lump of human excrement, which on paper may not sound funny but co-writers/directors Damon Beesley and Iain Morris keep it tense, exciting and desperately funny, especially when it comes to the ensuing panic at the water park. And the jokes, asides and visual gags just keep on coming. As always humiliation and embarrassment are often at the core of the humour, especially Will's attempts to get in with the cooler middle-class backpacking set, and come to a head with his hilariously dreadful version of Roberta Flack's The First Time Ever I Saw Your Face that he croons to Katie in a bid to win her over.
The four actors are all so at ease with their characters that it is delightful seeing them bring out the complexities and fears of their characters as well as their simple teen passions and paranoias. When they get stuck alone in the outback they are more exposed – emotionally and physically – than ever, but still manage to litter the film with sexual gags, toilet humour and genuine friendship. Quite whether age-wise they can go on to make another film playing young is another matter…but as in the American Pie films have shown, there is always the option of growing up.
Production companies: Bwark Productions, Film4
International sales: Zodiak Rights, www.zodiakrights.com
Producer: Spencer Millman
Cinematography: Ben Wheeler
Editor: William Webb
Production designer: Richard Bullock
Music: David Arnold, Michael Price
Main cast: Simon Bird, James Buckley, Joe Thomas, Blake Harrison, Tamla Kari, Emily Berrington, Freddie Stroma, Daisy Ridley, David Schaal