Dir: Don Scardino. US. 2013. 100mins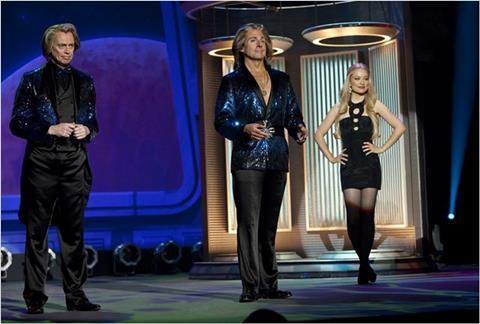 Magic comedy The Incredible Burt Wonderstone is a glossy and well-cast Hollywood star-vehicle that is all about the illusion…and to a large extent like the magic tricks its celebrates it looks great on the surface but somehow lacks the verve and pizzazz to really convince. Casting of Steve Carell and Olivia Wilde will hint at a strong opening – bolstered by a great supporting shift by a buff Jim Carrey and nice turns from Steve Buscemi and Alan Arkin – but whether it can pull a rabbit out of a hat and draw the big numbers remains to be seen.
Carell and Buscemi sport some spectacular Vegas-style wigs and appropriately garish outfits.
While the film is a rather unlikely opener for SXSW this year – last year it opened with the more indie and edgy The Cabin In The Woods – it certainly has the star appeal. It is a genial celebration of the world of magic-as-entertainment, and nicely dwells on the split between old-fashioned Vegas style magic acts and the down-and-dirty street illusionists. Film opens internationally in mid-March.
The film's structure is all very familiar and lacking in any real surprises – which is rather odd given that it celebrates the art of prestidigitation – and while there are some genuinely funny moments they are few and far between, and even the magic acts lack a real sense of impact.
The films opens with the young Burt and Anton (played as kids by Mason Cook and Luke Venek) bullied at school, and finding solace in a magic kit that includes an instruction video by magic legend Rance Holloway (Arkin). They grow up to be professional magicians, headlining at a Las Vegas hotel for years under the stage names of Burt Wonderstone (Carell) and Anton Marvelton (Buscemi).
Though their audiences are still there and the millions still coming in, Burt and Anton are largely going through the motions, and off-stage their friendship has faded, mainly due to Burt's over-inflated sense of self-importance and enthusiasm for chasing every female assistant they have.
Their sense of smug magical superiority is dented when they start to face competition out on the Las Vegas streets from up-and-coming guerrilla street magician Steve Gray (Carrey, sporting long-hair, tats and a six-pack, and clearly relishing his stylish support routine). His cult following gets bigger and bigger, and when Burt and Anton lose their jobs they are both forced to re-evaluate their lives and their feeling for magic.
The best moments are when Burt (Steve Carell playing his character rather too bland) is forced to live life without money and fame – but all rather familiar and covered in comedies many times before – and when he goes back to his roots doing modest magic tricks at an old folk's home, and comes across an aged Rance Holloway. Carell and Buscemi sport some spectacular Vegas-style wigs and appropriately garish outfits, and while Olivia Wilde has a nice time as their stage assistant, her tentative love-affair with Burt never rings true…Carell as a sex symbol rarely convinces (though he got away with it in Seeking A Friend For The End Of The World), and their one sex scene together is rather clumsy.
Director Don Scardino – who won two Emmys as producer/director of 30 Rock for five seasons – is smooth and slick enough and makes good use of the Vegas locations, but rarely mines the comedy potential from the situation. The climactic illusion sequence is perhaps the best moment in the film, with more laughs coming from the footage of how the stunt was performed during the end credits than in most of the film put together.
Production companies: New Line Cinema, BenderSpink, Carousel Productions
US distribution: Warner Bros
Producers: Chris Bender, Steve Carell, Tyler Mitchell, Jake Weiner
Executive producers: Richard Brener, Sam Brown, Vance DeGeneres, Charlie Hartsock, Diana Pokorny, JC Spink
Co-producer: Mason Novick
Screenplay: Jonathan M Goldstein, John Francis Daley, from a story by Chad Kultgen & Tyler Mitchell and Jonathan M Goldstein & John Francis Daley
Cinematography: Matthew Clark
Editor: Lee Haxall
Production designer: Keith P Cunningham
Music: Lyle Workman
Main cast: Steve Carell, Steve Buscemi, Olivia Wilde, Jim Carrey, James Gandolfini, Alan Arkin, Jay Mohr, Michael Herbig, Mason Cook, Luke Vanek