Dirs. Ricky Gervais, Matthew Robinson. US. 2009. 99 mins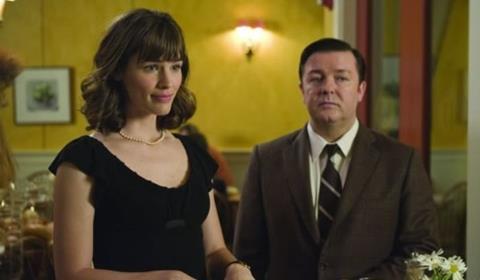 A premise worthy of a vintage screwball farce is developed into a breezy, crowd-pleasing comedy in The Invention Of Lying. Ricky Gervais may seem the unlikeliest British personality to crack the American movie market but he has cannily used the success of The Office and a string of supporting roles to build his profile.
Gervais plays to his strengths as an awkward, slightly grumpy figure with a sardonic sense of humour
His latest star vehicle and first film as co-director shows him continuing to refine his comic persona for the screen and advance his ambitions as a filmmaker. Consistently funny and engaging, the film may be lightweight but is also likeable and should build on the audience figures achieved for last year's Ghost Town.
Britain remains a country in which Gervais can do no wrong and the film should prove a strong autumn title on his home territory
The Invention Of Lying has an ingenious premise involving an alternative world in which everyone is obliged to speak the truth. Falsehood is unknown as everyone expresses what's on their mind, bluntly voicing their feelings and pulling no punches. The upending of convention produces a montage of amusing moments as waiters insult customers, secretaries berate bosses and retirement homes are described as A Sad Place For Hopeless Old People.
Gervais plays screenwriter Mark, a "chubby little loser" who knows that the lovely Anna (Jennifer Garner) is out of his league as soon as they meet. She doesn't disabuse him of the notion. His life goes from bad to worse when he is sacked and faces the possibility of eviction.
Desperation is the mother of invention, and the world's first lie is told when he convinces a bank teller that there is more money in his account than appears on her screen. He now has discovered the ability to bend a trusting world to his will.
Gervais once again appears to be using comedy as therapy to work out his personal insecurities. His screen alter ego is consistently branded a fat, underachiever but you know the purpose of the film will be to celebrate the triumph of this underdog and ensure that he wins the love of a gorgeous woman.
The obvious scenario unfolds with a ready wit and an engaging sense of playfulness, even if it does run out of steam before the end.
Although Lying clearly works as a film, there is still a sense of television to its reliance on a structure of set-up, gag and punchline and a certain sketchiness as Gervais works in a number of distracting Extras-style A-list cameos (Edward Norton, Philip Seymour Hoffman, Jason Bateman) and a scene with his television regulars Stephen Merchant and Shaun Williamson.
The sketchiness does still produce some memorable moments, though, especially as Mark's Messiah-like status grows throughout the film and he delivers his own sermon on the mount with details of an invented afterlife jotted down on the back of Pizza Hut cartons.
Gervais was once a guest star in Alias and Jennifer Garner returns the favour here, a good sport in the role of Anna. Rob Lowe is reliably slimy as Mark's romantic rival. Gervais plays to his strengths as an awkward, slightly grumpy figure with a sardonic sense of humour. He is well within his comfort zone but also proves effective in a more emotional scene at his mother's death bed.
The Invention Of Lying is the film of a writer/director/performer still testing his talent. He manages to invest a Hollywood production with a winning flavour of the originality and cleverness that marked his British television work whilst still delivering the kind of sentimentality and happy ending that should ensnare an American cinema audience.
To sign up for Screen's weekly Reviews Newsletter with all the week's new releases, internationalopenings and full festival reviews delivered free to your mailbox every Friday, please click HERE
Production Companies
Media Rights Capital
Radar Pictures
Domestic distribution
Warner Bros
International distribution
Universal Pictures
Producers
Lynda Obst
Oly Obst
Ricky Gervais
Dan Lin
Screenplay
Ricky Gervais
Matthew Robinson
Cinematography
Tim Suhrstedt
Production designer
Alexander Hammond
Editor
Chris Gill
Music
Tim Atack
Main cast
Ricky Gervais
Jennifer Garner
Jonah Hill
Louis C.K.
Rob Lowe
Tina Fey