Dir: Daniel Stamm. US. 2010. 88mins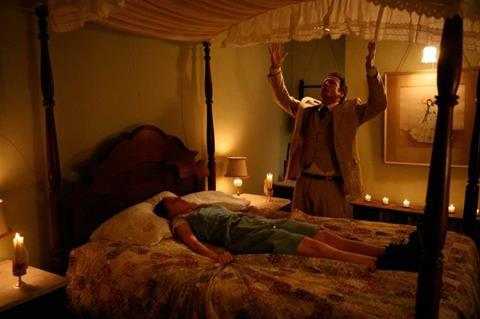 A spare, intimately conceived demonic possession drama, The Last Exorcism wrings plenty of spooky and often amusing engagement out of a wry preacher's showdown with a troubled young girl, but is crucially undone by editorial choices which betray its mock-doc framework.
Director Daniel Stamm ably showcases the movie's dark sense of humor, and also nicely conjures up a sense of unease when the story shifts gears.
With its $193 million worldwide gross, Paranormal Activity, which unfolded as a fake captured document, certainly proved an audience exists for atypically framed horror. And distributor Lionsgate had much success last year with another PG-13 horror film, The Haunting in Connecticut, which opened to $23 million en route to more than $55 million domestically. Cast with relative unknowns, The Last Exorcism will try to thread the needle of the two, playing up its spookiness more than any blood that might attract more diehard genre fans.
Reformed preacher Cotton Marcus (Patrick Fabian) views his past history of air-quote exorcisms in marginally conflicted terms — as that of a sort of for-hire mental garbageman, relieving folks of their psychological duress. Heading deep into rural Louisiana with a small documentary crew to show just how he's faked it for years, Cotton encounters an earnest, widowed fundamentalist farmer, Louis Sweetzer (Louis Herthum), certain that his 16-year-old daughter Nell (Ashley Bell) is possessed by a demon, even if his surly teenage son Caleb (Caleb Landry Jones) is skeptical. What Cotton expects to be just another case of empty religious theater gives way to dark family secrets and, possibly, true evil.
With a bit more setup than necessary, Huck Botko and Andrew Gurland's script sketches out the character of Cotton as the chatty son-of-a-preacher-man who just went into the family business but, spurred by a personal crisis of conscience, decides to submit to a documentary crew's desire, never more than half-formed, to debunk exorcism. The film self-consciously tabs its rural setting as a breeding ground for religious paranoia, but later has trouble pulling some of those same levers of chilling effect.
Operating exclusively through handheld camera, director Daniel Stamm ably showcases the movie's dark sense of humor, and also nicely conjures up a sense of unease when the story shifts gears. But as it progresses The Last Exorcism suffers from dubious edits, and it comes unwound in a loopy finale that just doesn't play, either from an emotional or technical standpoint. Self-awareness collides with more conventional choices, in an unsatisfying manner.
The acting is the film's strongest selling point. The fact that so few of the actors have credits audiences would be familiar with undeniably helps give the movie a certain freshness, and sense of discovery. Given a nice character arc, Herthum in particular does a nice job.
Production companies: Strike Entertainment, StudioCanal, Arcade Pictures
Domestic distribution: Lionsgate, www.lionsgate.com
Producers: Eric Newman, Eli Roth, Marc Abraham, Thomas A. Bliss
Executive producers: Huck Botko, Andrew Gurland, Phil Altmann, Ron Halpern
Co-producers: Patty Long, Gabrielle Neimand
Screenplay: Huck Botko & Andrew Gurland
Cinematography: Zoltan Honti
Editor: Shilpa Khanna
Production designer: Andrew Bofinger
Music: Nathan Barr
Website: www.thelastexorcism.com
Main cast: Patrick Fabian, Ashley Bell, Iris Bahr, Louis Herthum, Caleb Landry Jones, Tony Bentley