Dir: Alex Gibney. US. 2011. 94mins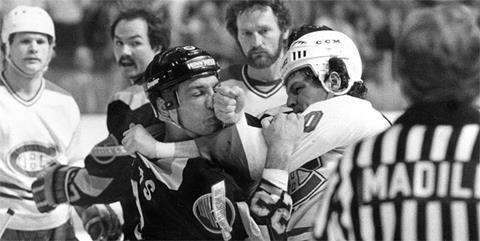 Oscar-winning filmmaker Alex Gibney (Taxi To The Dark Side) returns to the sports arena with this polished portrait of Chris "Knuckles" Nilan, an ice hockey legend whose career peaked in the 1980s.
Gibney zeroes in on the exploitive (and explosive) nature of ice hockey so much that he misses out on examining the larger question of humanity's penchant for violence and bloodshed.
Alternating between Nilan's rise and fall story and the brutal nature of the sport itself, The Last Gladiators is more narrowly focused than its predecessors (such as Catching Hell and Pure Corruption, about baseball and sumo wrestling respectively), lacking the illuminating wider social critique that made those previous docs particularly compelling.
Nilan may be engrossing, with his Frankenstein-like head cutting an imposing figure in close-up interviews, but the film will have a tough time reaching beyond the standard ESPN audience.
The film is most compelling in its first half, chronicling the violence of ice hockey itself, and the crucial role of "enforcers" — aggressive thugs on every team who pick fights with rival players and protect the "artists" on their team (like Wayne Gretsky), enabling them to score goals.
Gibney draws on plenty of shocking archival footage showing men pulling off their gloves, and slugging it out on the ice, while clips from the 1977 Paul Newman film Slap Shot offer more humorous illustrations of the beat-downs. It's remarkable how referees stand by on the sidelines, allowing the carnage to unfold.
As with Catching Hell, a fascinating portrait of the way audiences create scapegoats for their favorite teams' major losses, Gibney also touches on the relationship of the players to the fans in the stands; in this case, filled with bloodlust, they vicariously live out their desire to sucker-punch those who cross them.
Nilan is, of course, one such brute: He wears the scars on his knuckles — along with his 3,000 penalties — like a badge of honor. But like most enforcers, as the film makes clear in interviews with other notable tough-guys, he also dreams of becoming not just a bully, but also a professional, respected player.
Gibney traces Nilan's life and career; the Boston native found a home with the Montreal Canadiens and helped lead the team to a Stanley Cup in 1986. But after the quick-tempered Nilan flung a puck at a new Montreal coach in 1988, he was traded from his beloved adopted Canadiens, eventually landing with the New York Rangers and his hometown Boston Bruins. But nothing would ever be the same again for the admired giant.
With similarities to the recent Mark Walhberg film The Fighter or even Raging Bull, Nilan falls into a downward spiral, first addicted to painkillers and then far worse. But it's at this point in the film that Gladiators loses its momentum. However sad Nilan's plight may be, Gibney isn't able to find the kind of poignancy for which he's striving. There are also some gaps that might have fleshed out Nilan more deeply; for example, Nilan's wife, with whom he bore children, is conspicuously absent from the movie.
The film is also a missed opportunity: Gibney zeroes in on the exploitive (and explosive) nature of ice hockey so much that he misses out on examining the larger question of humanity's penchant for violence and bloodshed. It's called the last "gladiators," after all, which seems to call for some historical context.
Still, one has to give Gibney credit for making a sports documentary that doesn't end on a triumphant note, comparing maladjusted retired hockey players to men coming home from war. While the statement might be provocative and resonant, it may not exactly score big with sports fans, or art-house audiences.


Production companies: Jigsaw Productions, Northern Lights Hockey LLC
International sales: Submarine Entertainment
Producers: Larry Weitzman, Jim Podhoretz, Alex Gibney
Executive producers: Barry Reese, Donald "Dee" Rizzo, Mike Messner, George Gund, Robert J. Brooks
Screenplay: Larry Weitzman, Jim Podhoretz, Alex Gibney
Cinematography: Body Estus, Ben Bloodwell
Editor: Jim Podhoretz
Music: David Kahne
Website: www.jigsawprods.com/the-last-gladiators/
Main cast: Chris Nilan, Tony Twist, Marty McSorely, Donald Brashear, Paul Schantz