Dir: Shim Hyung-rae. South Korea-US. 2010. 103mins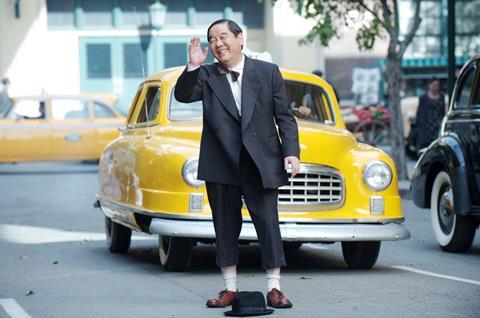 Slapstick comedy The Last Godfather is a strange concoction: a film shot in English with an American cast and crew, but targeted squarely at a South Korean audience. The brainchild of Shim Hyung-rae, known once as a TV comedian and more recently as the director of monster movie Dragon Wars, the film is selling tickets in Seoul but is unlikely to leave much of an impression anywhere else.
Keitel anchors a more or less solid cast.
The setting is 1951, when famed New York Mafia boss Don Carini (Harvey Keitel) gathers his organisation together and makes a surprise announcement. Years earlier on a trip to Asia he fathered an illegitimate son with a Korean woman, he says, and now he wishes his only child Young-gu to take over as his successor.
He asks his stunned subordinates to groom his son for the position, but when Young-gu arrives he looks ill equipped to function in modern civilised society, let alone become the next Godfather.
The role of Young-gu is played by Shim himself, reviving (but also significantly modifying) the on-screen persona that made him famous in 1980s-era Korean TV and film. Seemingly aiming for three parts Mr. Bean and one part Charlie Chaplin, Shim stammers in broken English and gestures wildly, but remains a thoroughly unlikable hero throughout - one of the film's biggest dramatic problems.
Keitel anchors a more or less solid cast, however a weakly-developed script ensures that the large number of physical gags never build up to a satisfying climax. On a technical level, the film looks like it was shot on a set, but this doesn't really detract from what is from the beginning a highly fanciful concept.
Production companies: Younggu-Art Ent.
International sales: CJ Entertainment, www.cjent.co.kr/eng
Producers: Lorenzo O'Brien
Executive producers: Choi Doo-ho
Screenplay: ShimHyung-rae
Cinematography: Mark Irwin
Production designer: Cecilia Montiel
Editor: Jeff Freeman
Music: John Lissauer
Main cast: Shim Hyung-rae, Harvey Keitel, Michael Rispoli, Jocelin Donahue, Jason Mewes, Jon Polito, Blake Clark