Dirs: Phil Lord, Christopher Miller. US. 2014. 100mins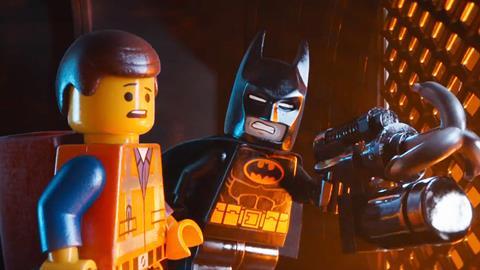 Discerning moviegoers certainly have many reasons to be wary of cinematic adaptations of toy brands. And given their enormous name recognition with the elementary school set, it would be easy to assume that The Lego Movie, based on the popular tiny interlocking plastic bricks, is little more than another slick cash grab with a boilerplate narrative and anything-goes sensibility.
The voice cast gives uniformly superlative performances. Pratt and Banks have a fabulous rapport, and Freeman again enjoys tweaking in rascally fashion the sort of sage persona with which he is so frequently charged.
But the film, a smoothly blended concoction of spry sensory pleasures and considerable heart, is a terrific family-friendly adventure with sincere verve and pop. Co-directors Phil Lord and Christopher Miller mine a deep reservoir of genuine pan-generation feeling absent in most adolescent-targeted entertainment, while also working in sly digs at consumer culture and paying homage to Legos' enduring appeal to retro collectors.
Lord and Miller's winning first feature-length animated effort, Cloudy With A Chance Of Meatballs, raked in $243 million worldwide, and it's not hard to imagine this doubling that haul, given electric word-of-mouth, strong critical embrace and the power of a Lego brand that has already carved out a niche for itself with various videogames and direct-to-DVD entertainments. Ancillary value will also obviously remain strong; with a variety of new mini-figures and building sets based on characters and scenes from the film extending its reach, and likely revisited attention next awards season, there's every reason to believe The Lego Movie will establish a strong franchise beachhead.
President Business (Will Ferrell) rules over a populace that is largely unaware of the dastardly plans of his alter ego, Lord Business, to destroy the different realms of the Lego Universe and remake it all in a more ordered fashion, as he sees fit. When construction worker Emmet (Chris Pratt), a rule-oriented Everyman, stumbles upon the so-called Piece of Resistance, he's mistaken by the no-nonsense Wyldstyle (Elizabeth Banks) as "The Special," a master builder who, as prophesised by mystic Vitruvius (Morgan Freeman), will be able to defuse Lord Business' powerful weapon, the Kragle.
With Lord Business' henchman, Bad Cop/Good Cop (Liam Neeson), in hot pursuit, this brings Emmet together with a motley crew of master builders — a group which includes Wyldstyle's boyfriend Batman (Will Arnett), chipper hybrid animal Unikitty (Alison Brie), swaggering pirate Metal Beard (Nick Offerman) and retro astronaut Benny (Charlie Day).
With both the aforementioned Cloudy along with 21 Jump Street, directors Lord and Miller have shown an ability to fold irreverence into adaptation, without sacrificing the elements of the source material that first made it successful. They've demonstrated a deconstructionist sensibility and deft touch with corporate satire in some of their previous work, but The Lego Movie easily represents a new high-water mark.
On one level, the movie undeniably and unabashedly functions as an extended commercial for Lego. But while imprinting a typical hero's journey narrative onto such a sprawling enterprise, the filmmakers also freely poke fun at the many properties which have licensed themselves to Lego, which in addition to Batman and Star Wars (which has probably forged the deepest partnership with the company) means all sorts of quick-witted jabs and running-joke asides at the good-natured expense of a lot of other Warner Bros.-controlled characters (Dumbledore bristles over being called Double Door, for instance, while Superman labours to avoid an annoying Green Lantern, who just wants to be his friend).
Lord and Miller also smartly interweave a meta-commentary on the assorted ways different ages and individuals play with and use Legos. Emmet adheres to the rules and follows directions in building everything; Lord Business is a further extrapolation of this very structured method. The other master builders, meanwhile, are different sorts of creative folk, who rely on their imaginations to build wild things on the spur of the moment. This commentary comes full circle courtesy of a fantastic third act twist in the movie which, as with Cloudy, also assays father-son emotional distance.
The Lego Movie is also just great to look at. The computer-rendered animation is gorgeous throughout. Its modular aesthetic is informed by a slightly herky-jerky quality that simulates the effect of stop-motion playing with actual Lego pieces. It's an especially beguiling combination with the action sequences, meanwhile, which are as every bit as rousing and cathartic as some of the best live-action genre scenes; in the best sense of the description, they feel like the freebased imagination of adolescent flight-of-fancy, with creatures and creations of all these different universes colliding in service of a winking, race-against-time narrative.
Some of the separately modeled Lego bricks show subtle signs of wear, rather than perfect, out-of-the-box sheen, and Lord and Miller also find amusing ways to incorporate non-Lego real-world "relics" like Band-Aids and cotton swabs, of which none of the characters quite know what to make.
The voice cast gives uniformly superlative performances. Pratt and Banks have a fabulous rapport, and Freeman again enjoys tweaking in rascally fashion the sort of sage persona with which he is so frequently charged. Arnett, meanwhile, has an absolute blast as the raspy, preening, self-involved Batman, complete with an end credits song in which he celebrates his mannered darkness.
Batman fans who can take a joke will that tune, but "Everything Is Awesome," Emmet's favorite paean to harmonious cooperation, is the catchy song everyone will be singing upon exiting theaters. It's a near-perfect simultaneous celebration and skewing of upbeat, pop song effervescence, meaning kids and adults can enjoy it equally on different levels. Just like The Lego Movie as a whole.
Production companies: Village Roadshow Pictures, Ratpac-Dune Entertainment, Lego System A/S, Vertigo Entertainment, Lin Pictures
Distribution: Warner Bros. Pictures
Producers: Dan Lin, Roy Lee
Executive producers: Jill Wilfert, Matthew Ashton, Kathleen Fleming, Allison Abbate, Zareh Nalbandian, Jon Burton, Benjamin Melniker, Michael E. Uslan, Seanne Winslow, James Packer, Steven Mnuchin, Matt Skiena, Bruce Berman
Co-producer: John Powers Middleton
Associate producers: Amber Naismith, Will Allegra
Screenplay: Phil Lord & Christopher Miller, based on a story by Dan Hageman & Kevin Hageman and Phil Lord & Christopher Miller, based on Lego Construction Toys
Cinematography: Pablo Plaisted
Editors: David Burrows, Chris McKay, with additional editing by Robert Fisher, Jr.
Production designer: Grant Freckelton
Music: Mark Mothersbaugh
Animation supervisor and co-director: Chris McKay
Website: www.TheLegoMovie.com
Main voice cast: Chris Pratt, Will Arnett, Elizabeth Banks, Morgan Freeman, Will Ferrell, Liam Neeson, Alison Brie, Nick Offerman, Charlie Day, Jake Johnson, Channing Tatum, Jonah Hill, Cobie Smulders, Billy Dee Williams, Keith Ferguson, Shaquille O'Neal, Keegan-Michael Key, Dave Franco, Jorma Taccone