Dir: Jim Jarmusch. US. 2009. 116 mins.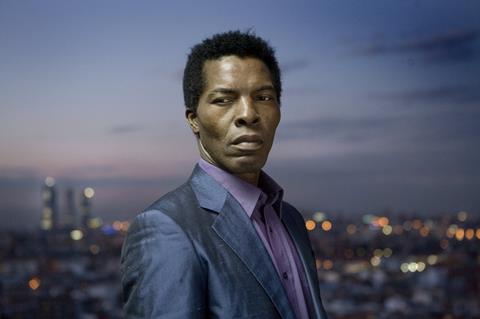 As if in retreat from the mainstream after making his most commercially accessible film in Broken Flowers, Jim Jarmusch returns with an extreme art film as obscure and elliptical as anything he's ever made. The Limits Of Control is a puzzle wrapped in an dream, a blur of reality and consciousness, images and sounds, which stubbornly – and proudly - refuses to follow conventions of narrative or pacing. As maddening as it is intriguing, the film is unlikely to break out of a very small arthouse niche.
Shot gorgeously on location by Chris Doyle, each frame a composition in itself, the film moves at its own deliberate tempo: some would call it boring, others hypnotic.
Broken Flowers , buoyed by Bill Murray's central performance, grossed a noteworthy $33m outside the US and a respectable $13.7m domestically. With Isaach de Bonkole in the lead here, The Limits Of Control will rely on Jarmusch's name and some tasty cameos to sell it, but it will be an uphill battle for Focus Features to build much of an audience beyond the director's fanbase when it opens on May 1 in North America. Numbers will most likely be along the lines of Jarmusch's 2004 portmanteau Coffee And Cigarettes which took $2.2m in domestic and $5.7m internationally.
The Limits of Control's core audience would seem to be a highbrow festival crowd. Indeed there's something to be admired in Jarmusch's resolute refusal to instruct the audience what to feel or indeed let them know much about what is going on. Surrender to its formalistic rhythm and beautiful compositions and there is much pleasure to be had here for an intellectual audience. Cinephiles will appreciate the references, explicit and otherwise, to John Boorman's Point Blank (the company Jarmusch created to produce this film was named PointBlank Films), The Lady From Shanghai, Antonioni's entire oeuvre and others.
De Bankole is a crisply dressed loner on a mysterious assignment. In a business class lounge at Roissy Charles de Gaulle Airport in Paris, he meets a Creole man (Descas) and a French man (Stevenin) who give him indirect instructions about the job in hand while also musing about how reality is in the eye of the beholder. The loner is told to proceed to Madrid and await further instructions from a man with the violin.
The rest of the film plays out in Spain as the man pursues one contact after another. At each meeting, he awaits specific codewords and exchanges matchboxes. The matchbox he receives contains information (coordinates?) which he reads and then swallows.
Like Lee Marvin's character in Point Blank, he remains distant and professional throughout – refusing sex offered him aggressively by one of the contacts (de la Huerta whose character name is "Nude") and observing every detail with the same blank detachment as he views the paintings in the Reina Sofia Museum.
Among his contacts are movie-mad Blonde (Swinton decked out with typical eccentricity in platinum blond wig, cowboy hat and leopard skin), science-focused Molecules (Kudoh, so memorable in Mystery Train two decades ago) and art fan Guitar (Hurt). The meetings he has with each person follow the same pattern and each contact delivers an oblique monologue. After various exchanges in Madrid and Seville, the man moves to the country for his final assignations (Bernal, Abbass) and the purpose of his mission which involves Murray.
Shot gorgeously on location by Chris Doyle, each frame a composition in itself, the film moves at its own deliberate tempo: some would call it boring, others hypnotic.
Production companies
PointBlank Films
Focus Features
Entertainment Farm
Worldwide distribution
Focus Features/Focus Features International
Producers
Stacey Smith
Gretchen McGowan
Cinematography
Christopher Doyle
Production designer
Eugenio Caballero
Editor
Jay Rabinowitz
Music
Boris
Main cast
Isaach De Bankole
Alex Descas
Jean-Francois Stevenin
Luis Tosar
Paz De La Huerta
Tilda Swinton
Youki Kudoh
John Hurt
Gael Garcia Bernal
Hiam Abbass
Bill Murray