Dir/scr: Mary Harron. Canada-Ireland. 2011. 82mins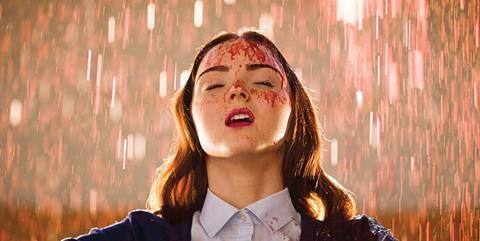 Mary Harron's adaptation of Rachel Klein's novel The Moth Diaries, a tale of supernatural goings-on at a girls' boarding school, is as limp and bloodless as a vampire's leftovers. One might forgive a clunky, over-didactic script that underestimates the intelligence of the teen girls it's presumably aimed at, but the lack of thrills and frights in what is billed as a horror movie is less easy to overlook. Supermodel Lily Cole's stiff turn as creepy schoolgirl Ernessa (after promising performances in The Imaginarium of Dr Parnassus and Rage) is another disappointment.
It's Lesbian VampireKillers rewritten for the Harry Potter market.
The film's only real upsides are a fine performance by Irish actress Sarah Bolger as the film's diary-writing heroine Rebecca, and the director's intermittently successful attempt to capture the intense, hormonal relationships of a group of sixteen-year-old girls who spend every minute of their day together.
Still, bad films often make good date movies: this must be the explanation for the multi-territory deals already inked by The Moth Diaries (which include co-producer Lionsgate for the UK). And it could just work in a girl-slanted corner of the kid-horror niche carved out by films like The Hole – though that had the advantage of a 3D version. But over-fourteens are likely to find the whole thing beneath them.
Bolger plays Rebecca, a pretty, sensitive sixteen-year old girl who, at the beginning of the film, is about to start a new year at Brangwyn, an elite girl's boarding school somewhere in the cold north of North America. She's excited – she confides to her mother and the diary she reads out in voice-over just in case we missed anything – to be getting back to Lucy (Gadon), her best friend and soul mate.
Brangwyn is a gloomy, grey nineteenth-century pile with some pretty stern female teachers – but Rebecca, Lucy and their friends (who include Charley (Tian), a feisty, punky Chinese-Amercian skateboard-girl) form a mutual support group, being there for each other and Rebecca whose poet father, it soon turns out, committed suicide two years previously. But weird English new girl Ernessa (Cole) begins to cultivate Lucy, who becomes distant from Rebecca.
The film makes no real secret of the fact that Ernessa is a supernatural being who comes from the distant past, when the school used to be a hotel: her otherworldly status is signalled in neon early on.
They have room parties that look like old Avril Lavigne music videos and gossip about dishy new English teacher Mr Davies (Speedman), who is teaching a course on the vampire genre – which, he tells the girls, is all about "sex, blood and death". One of his core texts is Sheridan Le Fanu's seminal 1870s vampire yarn Carmilla, which Rebecca starts to become obsessed by.
The atmosphere darkens with the onset of winter: there's a death, Lucy sickens and looks terribly drained, and Rebecca herself starts to play with a razor and wondering whether suicide runs in the family.
At least it all moves along at a brisk enough pace. The film's main fault, though, is to keep full-on horror at arm's length – but at the same time, only timidly explore the burgeoning sexual impulses and hothouse atmosphere of this kettle of adolescent girls.
Harron flirts tamely with lesbian themes and images but these seem just window-dressing; it's Lesbian Vampire Killers rewritten for the Harry Potter market. On-the-nose dialogue and diary entries like "Before Ernessa came I was happy" display a pretty low opinion of the audience's intelligence, and neither Declan Quinn's adequately spooky camerawork nor the rather conventional orchestral suspense soundtrack are sufficient compensations.
Production companies: Alliance Films and Edward R. Pressman present a Mediamax/Samson Films Corporation coproduction in association with Strada Films and Lionsgate UK
International sales: Wild Bunch, www.wildbunch.biz
Producers: Karine Martin, David Collins
Executive producers: Sandra Cunningham, Edward R. Pressman, Mark Slone, Jean-Francois Doray, Louis-Simon Menard, Norton Herrick, Zygi Kamasa, Jon Katz
Cinematography: Declan Quinn
Editor: Andrew Marcus
Production designer: Sylvain Gingras
Music: Lesley Barber
Main cast: Lily Cole, Sarah Bolger, Sarah Gadon, Judy Parfitt, Melissa Farman, Valerie Tian, Scott Speedman