Dir/scr: Calvin Lee Reeder. US. 2010. 81mins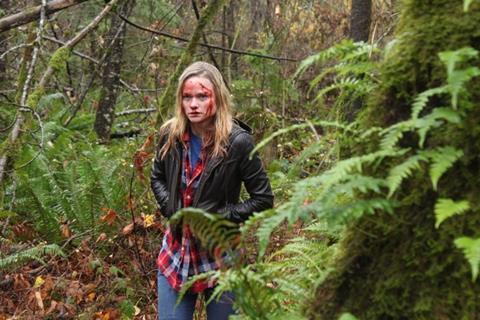 In The Oregonian, a woman flees into the Northwest woods, where the horrors grow on trees, and everywhere else. Calvin Lee Reeder laces his fragmentary narrative with symbols, just to make sure you're really confused.
In Calvin Lee Reeder's unsentimental feature, nature is a place where you get lost, and where there's a threat around every corner.
As independents aim for awards and fame and Oprah-funded world-saving, The Oregonian - named for the fleeing woman whose name we never learn - is a film unlikely to break the box office. The niche market for this story written for the actress Lindsay Pulsipher (from HBO 's True Blood) is the festival circuit, plus those who gravitate toward experimental horror, plus fans of Reeder's rock bands, the Popular Shapes and the Intelligence.
A few jolting jump cuts into a drizzly landscape, woman is bleeding and crawling out of a car that she's just crashed. When the camera flashes back joltingly to the house that she fled, we see an abusive boyfriend (Robert Longstreet, who's in four Midnight Movies at Sundance 2011).
Later she's pursued by someone in a giant green frog costume, whose heart is beating visibly for her. She's also driven in a truck by a fat man whose urine comes in several different colors.
In this collaboration between Reader and Pulsipher, the writing relies less on dialogue than on a series of explosive encounters. Flashbacks telegraph cues as to why the woman is where she is, yet it's never clear whether any of the events are not her hallucinations.
Reeder is out to shock, yet he's also determined to make his audience laugh and to draw attention to his tale's artificiality with campy makeup and costumes. Sometimes The Oregonian looks like sophomoric film-school iconoclasm, the equivalent of angry indie-rock lyrics with the amps turned up to 11.
On a closer look, the style achieved with one camera in 16mm and another in Super 16mm is deliberate rather than accidental. The lurching from scene to violent scene of absurd violence that seems oddly logical is reminiscent of the young Jean-Luc Godard. Nicholas Roeg also haunts The Oregonian.
So do the sinister forests of Grimms' Fairy Tales. Nature, which audiences tend to worship and hug at Sundance, isn't The Oregonian's friend here. In Calvin Lee Reeder's unsentimental feature, nature is a place where you get lost, and where there's a threat around every corner. The rainy chilly woods of Oregon and Reeder's own music heighten that foreboding.
Lindsay Pulsipher balances the fear and the camp in her character without sacrificing either element. For the first third of the film, she's walking around with fake blood on her face that looks like ketchup. And she can still make you afraid of what's behind the next tree.
Production company/sales: XYZ Films, www.xyzfilms.com
Producers: Steven Schardt, Christian Palmer, Roger M. Mayer, Christo Dimassis, Wen Marcoux, Scot Honea, Joey Marcoux
Cinematography: Ryan K. Adams
Editor: Buzz Pierce
Music: Scott Honea, Calvin Lee Reeder, Jed Maheu
Main Cast: Lindsay Pulsipher, Robert Longstreet, Matt Olsen, Lynne Compton, Barlow Jacobs, Robert M. Mayer