Dir: Atiq Rahimi. France-Germany-Afghanistan. 2012. 98mins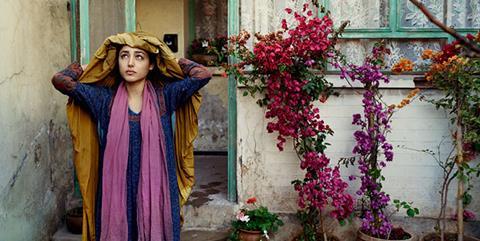 Golshifteh Farahani gives a memorable and moving performance in Atiq Rahimi's poetic and politically charged allegory The Patience Stone (Syngué Sabour), as a woman in an unnamed, war-torn, Middle Eastern country, who delivers a powerful and emotionally charged monologue to her comatose husband.
Gently paced and by its very nature extremely talky, The Patience Stone is a strikingly pertinent film.
Afghan author Rahimi took refuge in France following the Soviet invasion of his country, and The Patience Stone is based on his novel (and cop-scripted by him and French screenwriting legend Jean-Claude Carrière), which won the illustrious Prix Goncourt in 2008. Its classy credentials, lush cinematography by Thierry Arbogast and striking lead performance should see it on the radar of art house distributors.
Golshifteh Farahani, a controversial actress in her home country of Iran due to her decision to star in Ridley Scott's Body Of Lies (2008), is impressive as modern-day women who tends her husband, who has been left in a coma for more than two weeks. The mullah said he would talk and hear again after two weeks, but there is no change and she says she has had enough of praying.
Left alone with her two young daughters after her husband's children abandoned them, she loyally remains at her husband's side, talking to him, picking up medicine to keep him alive and waiting patiently for some sign of life.
When visiting her aunt she is given advice - "Tell the patience stone all your worries and it will free you" - and so begins a one-sided conversation with her husband. She talks about her frustrations, explains that his brothers have left, and talks about his past as a warrior. With the camera moving slowly and gently round her beautiful and at times passionate face the tears, anger and torments are brought eloquently to the surface.
Of course, the subtext is that she is venting feelings for many Muslim women, finally given the opportunity – under the worst of circumstances – to express her feelings without the husband being able to comment.
Gently paced and by its very nature extremely talky, The Patience Stone – her dialogue only occasionally punctuated with interventions from the outside world, such as a visit by the mullah or the children playing round his comatose body – is a strikingly pertinent film, and deserves to find a home at other film festivals.
Production companies: THE FILM, Studio 37, Corniche Group, Razor Film, Arte France Cinema, Jahan-E-Honar Productions
International sales: Le Pacte, www.le-pacte.com
Producer: Michael Gentile
Executive producer: Hani Farsi
Screenplay: Atiq Rahimi, Jean-Claude Carrière, adapted from Rahimi's novel
Cinematography: Thierry Arbogast
Editor: Hervé de Luze
Production designer: Erwin Prib
Music: Max Richter
Main cast: Golshifteh Farahani, Hamidreza Javdan, Hassina Burgan