Dir: Anne Renton. US. 2011. 84mins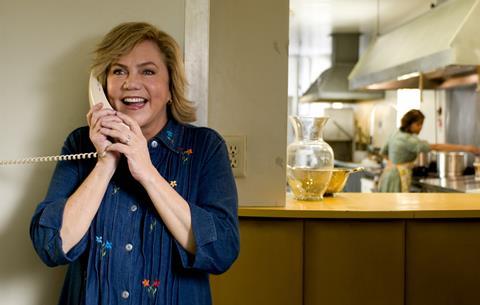 What is it about Kathleen Turner and Catholicism? In Matthew Lombardo's gritty Broadway play, High, which just closed after only eight public performances, she plays Sister Jamie, a nun who doesn't wear a habit but reveals her calling with a prominent gold cross around her neck. She is also a drug counsellor who ends up admitting to a young addict she's assigned to that she is a recovering alcoholic.
Lesbians and gay men everywhere will flock to The Perfect Family.
Now in the much frou-frouier The Perfect Family, Turner portrays a suburban housewife named Eileen Cleary who also waves her convictions with a cross always in view. She has "found" Catholicism in midlife and imposes its morality on everyone, particularly her family, but after alienating all of its members, ends up writing a letter to the priests and nuns who are considering naming her "Catholic Woman of the Year" - having a perfect family is a prerequisite - that she had an abortion as a young wife, that her daughter Shannon (Deschanel) is a lesbian, that her fireman husband Frank (McGrady) is a recovering-alcoholic, and that her son Frank Jr. (Ritter), also a fireman, is a ne'er-do-well drunk who cheats on his wife.
The only vocal response among the clerics at the conference table? "I find it refreshing!" At a time when archconservatives rule the Catholic roost? Here the Church successfully appropriates…anything.
In English-language territories, what will prove helpful in promoting this featherweight film upon release (there is no distributor in the US at this point) are its comic moments (a few very good, the others lame but appealing to many audiences), headliner Turner's (lingering) star wattage, the grand appeal to a youthful demographic of the younger Ritter and Deschanel (Bones), and Renton's nice direction.
The negatives include the falseness of its premise and the unbelievable shifts between humour and seriousness. Success in non-English-language markets is difficult to predict, since in comedy language plays such an important role, but Europeans are fairly open to films with broad humour, so it may do well there.
All of the actors play second fiddle to the real stars of the movie: lesbians and their rights in a xenophobic society. Renton and Goldberg are out in real life, and Riley, a heterosexual, did her dissertation on lesbian families. (Chamberlain is, of course, openly gay.) Shannon and her lover, Angela (Cabral), take centre stage. Both are sweet, smart, and stunning, perfect people in an imperfect world.
Her daughter's sexuality is Eileen's greatest obstacle to taking home the award. She feels compelled to run out of Shannon and Angela's garden wedding, knocking over a tray in the process so that her bigotry is palatable. (Much more difficult to swallow is her cowardice when she caves and signs an anti-gay adoption petition at the church.)
The most moving scenes are those with Eileen and Shannon, not with Eileen and her son or Eileen and her husband. Shannon and Angela kiss openly and heavily. Frank Jr., on the other hand, would appear asexual were it not for the fact that we know from exposition that he is married with children, and we do observe his mistress, a tacky manicurist, for all of three minutes.
Lesbians and gay men everywhere will flock to The Perfect Family for its featherweight treatment of gay subject matter (Turner is some kind of gay icon as well), but many Catholics and others unsympathetic to homosexuality will stay away. Annette Bening and Julianne Moore in Lisa Cholodenko's far superior The Kids Are All Right are not on hand to override their prejudice, and Turner no longer has the power to do so.
Frank Jr. is all but forgotten, Frank Sr. not much more than a calm presence to highlight Eileen's hysteria. Scenery-chewer Turner, even with her excessive body weight, retains a gift for physical comedy, even if she has only a limited range of expressions. To be frank, her red-lipsticked pursed mouth, layers of makeup, and recurring facial tics remind me of The Joker in Batman.
Screenwriters Riley and Goldberg and director Renton let the Catholic Church off the hook too easily. Here a Catholic is considered observant as long as the awful truth about supposed sins is admitted. The film itself is an irresponsible confessional that absolves anyone for disobeying dogma. And when you have as facilitator of the Catholic Woman of the Year award the charming, handsome Richard Chamberlain as the most naïve, sugar-coated priest this side of Bing Crosby, who wants to find fault?
The Kids Are All Right, which also combined comedy and drama and is largely about a lesbian couple, has a contemporary feel sorely lacking in The Perfect Family. Even the Cleary's suburban town, especially the cathedral itself, are photographed in a 1950s style that works when ironic (Todd Haynes's Far From Heaven is a good example) but here, like the framing of Eileen's face in the screen bars of a confessional booth, is both dated and derivative.
Production companies: Certainty Films, Present Pictures
International sales: The Film Sales Company, www.filmsalescorp.com
Producers: Jennifer Dubin, Cora Olson
Executive producers: Connie Cummings, Kathleen Turner
Screenplay: Claire V. Riley, Paula Goldberg
Cinematography: Andre Lascaris
Production designer: Megan Hutchison
Editor: Chris Kroll
Music: Andrew Kaiser
www.theperfectfamilymovie.com
Main cast: Kathleen Turner, Emily Deschanel, Jason Ritter, Michael McGrady, Sharon Lawrence, Angelique Cabral, Elizabeth Pena, Richard Chamberlain