Producer James Wilson talks about high-concept documentary The Pervert's Guide to Ideology, directed by Sophie Fiennes and starring the inimitable philosopher and film critic Slavoj Zizek.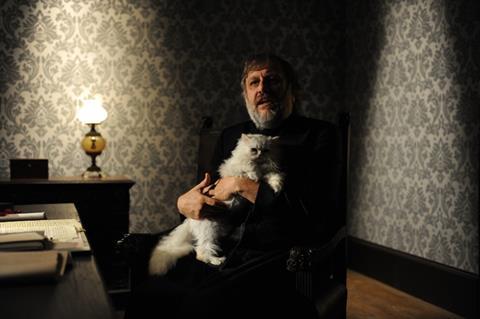 Synopsis: The sequel to cult 2006 documentary The Pervert's Guide to Cinema sees the return of renegade philosopher Slavoj Zizek who now explores what psychoanalysis can tell us about ideology via his interpretation of classic films.
Director: Sophie Fiennes' Anslem Kiefer documentary Over Your Cities Grass Will Grow debuted at Cannes in 2010, while The Pervert's Guide To Cinema (2006) and Hoover Street Revival (2002) were both nominated for BIFAs.
Writer: Sophie Fiennes
Producers: James Wilson, Martin Rosenbaum, Katie Holly, Sophie Fiennes
Executive Producers: Shani Hinton; Katherine Butler for Film4; Tabitha Jackson for Channel 4; Michael Sackler and Julia Godzinskaya for Rooks Nest Entertainment
Cast: Slavoj Zizek
Financing: BFI Film Fund, Film4, Channel 4 and the Irish Film Board combined to finance with new UK equity company Rooks Nest Entertainment
Shooting locations: Ardmore Studios, Dublin, and on location in Salzberg, Austria and California.
Shoot dates: 2011
International sales: TBC
Distribution: TBC
Release date: TBC

On the origins of the project:
I was so excited about the original, which I was involved in in a very informal, ad hoc way. I remember at the time Sophie said this could be a continuing piece. "You could do Zizek analysing other areas", she said, one of them being ideology. The Pervert's Guide to Opera was another idea mooted.
This time we wanted to up the ante in terms of production value. The scale is improved now with us recreating scenes from the likes of A Clockwork Orange, A Dark Knight, The Sound of Music, Full Metal Jacket, Titanic, Triumph of the Will, The Fall of Berlin, and the John Carpenter film They Live.
On how the project came together:
Sophie and Martin were working on it separately before me. But the financing went pretty smoothly. I spoke to Tessa Ross about it at a dinner and she was enthusiastic. We had meetings with More 4 and Film 4 and the BFI, with Tanya Seghatchian and Lizzie Francke both interested. We also had support from new UK production company Rooks Nest and the support of the IFB and Blinder Films.
On working with Slavoj:
He is unmediated, brilliant. He is like he is. He talks a mile a minute and is very loquacious. It's like talking to Wikipedia and it's all done at breakneck speed. He is like that. The film is undercut by a witty and obscene sense of humour which is his alchemy. He isn't a mad professor, he is compelling. When he does his analysis he is thinking as he does it. Sophie has an idea of what she wants him to talk about but it is quite ad hoc. He was inspired by things on set sometimes.
He is constructing ideas as he talks. He builds to incredible observations which become like a dramatic performance. It's not pre-planned but has intellectual drama which he ties together in a brilliant way. From the Bible, to Donald Rumsfeld, to the London riots, to A Clockwork Orange, it all comes together like a speech in a great play.
On the film's locations:
The big ending is in Salzburg where we'll do 'Hills Are Alive With The Sound Of Ideology' in reference to 'The Hills Are Alive To The Sound Of Music'. We're in LA for Jaws and They Live, we were out in the desert in Death Valley for Zabriskie Point and The Last Temptation of Christ. The film touches on the cult of environmentalism, too. We shoot in the jet liner bone yards in the Mojave desert and touch on the ideology of consumerism.
On the film's current relevance:
Sophie has always been eloquent about that. From this film's conception to completion there has been a change in the zeitgeist and the film will reflect some of those shifts.
On the potential audience:
I think it has robust potential. I think Slavoj is incredibly entertaining. This is a film about thinking. The film essay is a really exciting and underexplored form. This should be like a workout for your brain, a mind-gym. This is a film about the excitement of thinking, like the best lecture you ever went to.