Dir: Derek Cianfrance. US. 2012. 140mins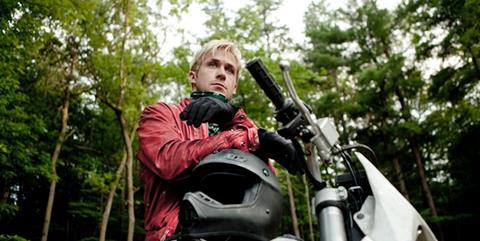 Following Blue Valentine, his intimate, wrenching story of a relationship's unraveling, director Derek Cianfrance takes on a broader canvas with The Place Beyond The Pines, a stylish story of interlocking families, generational links and redemption in Upstate New York. Cianfrance shows a continuing maturity in his filmmaking style, and once again shows a talent for narrative complexity, keeping the audience on its toes as the story divides into three distinct sections spanning 15 years. But The Place Beyond The Pines doesn't have the emotional power of Blue Valentine; although with flashes of poignancy, this is a movie that doesn't have the same gut-pummeling weight.
Ultimately, Pines is Cooper's show, and he delivers a finely calibrated performance as a man facing multiple moral dilemmas.
Still, given Ryan Gosling's rising stardom and a handful of thrilling sequences, art-house bookings are assured and, with strong marketing, bold distributors could make a case for wider theatrical release.
Pines opens forcefully with a close-up of a man flinging a swing blade; the camera then pulls back to reveal the broad shoulders and tattooed figure of a man on a mission, as we follow him out of a trailer, through the hustle, bustle and flashing lights of a carnival, and then onto a motorcycle, where the full, peroxide blonde, leather-jacketed figure of stunt cyclist Luke (Ryan Gosling) finally emerges.
Cut from the same cloth as his character in Nicholas Winding Refn's Drive, Gosling's Luke is a sensitive, violence-prone bad-ass, a man who lives for speed, but then shows his gentle side when he learns that he has a 1-year-old son, with one-time fling Romina (Eva Mendes). When Luke decides to abandon his stunt-driving itinerant ways to bond with his infant child, he finds going straight a challenge. Soon enough, he shacks up with a likeable, but bedraggled hillbilly mechanic (terrific Aussie actor Ben Mendelsohn, radiating equal parts victim and crook) and begins robbing banks to provide for his newfound family.
The film's opening section is also its most stylish: Echoing Drive, Cianfrance and veteran British cinematographer Sean Bobbitt (Shame) employ plenty of moody shallow-focus cinematography, evocative dissolves, and jacked-up fast-moving shots for tension-filled action scenes. One memorable sequence involves two motorbikes speeding through the forest, passing the trees in rapid staccato glimpses.
In a surprising narrative pivot, the film's second section follows novice police officer Avery Cross (Bradley Cooper), who is hailed as a hero for shooting a bank robber, but then discovers rampant corruption in his department. While dealing with immoral cops (Ray Liotta steals a few scenes as a veteran officer), Avery must also contend with the guilt he feels for killing another man. In one of the movie's most affecting scenes, the emotionally closed Avery briefly exposes his inner wounds when he confesses to a therapist that he can no longer look at his infant son after the incident.
The movie's final section brings the story of these two fathers together: the criminal and the cop. While the resolution strives for the kind of big catharsis that such an epic story demands, The Place Beyond The Pines fits together neatly—perhaps too neatly—rather than satisfying on a significant emotional register. In its favor, the movie's final part introduces two compelling young actors, Dane DeHaan (Lawless) and Emory Cohen, who are every bit as magnetic onscreen as their adult counterparts. Gosling is given a few moments to exude his now familiar mix of warmth and toughness, but as the film unfolds, it's clear his character is more of a catalyst than a protagonist.
Ultimately, Pines is Cooper's show, and he delivers a finely calibrated performance as a man facing multiple moral dilemmas, as well as DeHaan, as the troubled intense teenager who must live with the sins of not just one father, but two. But because these characters are introduced late in the film, Pines takes a major risk.
At 140 minutes, it should be noted that Pines never lags, but the running time could have a deleterious effect on its commercial potential.
Production companies: Sidney Kimmel Entertainment, Electric City Entertainment, Verisimilitude
International sales: Sierra-Affinity, www.sierra-affinity.com
Producers: Jamie Patricof, Lynette Howell, Alex Orlovsky, Sidney Kimmel
Executive Producers: Jim Tauber, Matt Berenson, Bruce Toll
Screenplay: Ben Coccio, Darius Marder, Derek Cianfrance
Cinematography: Sean Bobbitt
Editor: Jim Helton, Ron Patane
Production designer: Inbal Weinberg
Music: Gabe Hilfer
Main cast: Ryan Gosling, Bradley Cooper, Eva Mendes, Rose Byrne, Ben Mendelsohn, Mahershala Ali, Dane Dehaan, Emory Cohen, Ray Liotta