Dir: Chris Kraus. Germany-Austria-Estonia. 2010. 129mins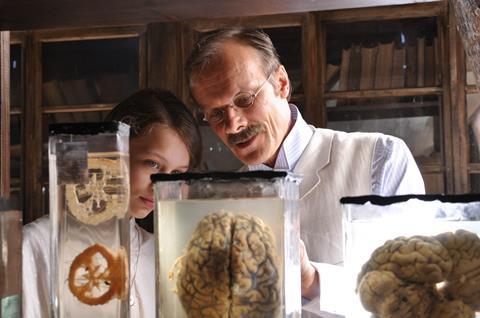 Combining a coming-of-age story about a precocious 14 year-old girl with the apocalyptic end of an era, Chris Kraus' loose adaptation of the diaries written by Oda Schaefer, a German poetess who also happens to be an aunt of his, looks very much like a labour of love that he had toiled at for a long time and couldn't separate from.
Daniela Knapp's camera lends a kind of twilight mood Silke Buhr's sets are nothing less than brilliantly evocative of the subject.
Remarkable creative sets, sensitive camerawork, a dedicated cast with a formidable performance by young Paula Beer in the lead, it lingers too often and too much on certain details, with the ending dragging on and on. Given the gloomy atmosphere Kraus should find easy access to festivals, but theatres outside the home turf will be far more difficult to tempt.
In the summer of 1914, Oda Schaefer (Beer) travels from Berlin to her father's estate in Estonia. She is bringing her mother's coffin, to be buried on native soil, and a gift her father had specifically asked for - a jar with the fetus of a two headed baby in it.
Her father Ebbo (Edgar Selge) is a scientist who has somehow lost his professorship and is keen to regain in through the research he is engaged on at the estate. For him, humanity exists only as an object for dissection and analyse, witb the impending war of no interest.
The Germans and the Estonians on the estate are all under the close supervision of a Russian garrison, dispatched to hunt local anarchists. Oda finds one of those anarchists (Tabet Tuisk), wounded on the premises, hides him in the attic of her father's lab. Alienated by a family that doesn't pay attention to her - her stepmother would much rather organise musical soirees than take care of her - Oda is fascinated by her secret companion whose life she has saved and is willing not only to help him escape, but join him as well.
Daniela Knapp's camera lends a kind of twilight mood to the whole picture and Silke Buhr's sets, particularly the manor house on stilts, are nothing less than brilliantly evocative of the subject. The problem lies with the script, which doesn't bother to clarify the family relations; puts into the mouth of a 14 year-old a sophisticated political speech that is far beyond her resources, and can't really make up its mind about the ending, trying one version after the other.
Production companies: Kordes&Kordes Film, DOR Film
Producers: Alexandra Kordes, Meike Kordes
International sales: Bavaria Film International
Cinematography: Daniela Knapp
Production designer: Silke Buhr
Editor: Uta Schmidt
Music: Annette Focks
Main cast: Paula Beer, Edgar Selge, Tabet Tuisk, Jeanette Hain, Richy Muller